Event
| Lecture, Talk
Performing the Sublime Sea of Co-Mattering
Online-Talk | With Mary Maggic
22 November 2023 (online only)
Proven through years of researching through the project Open Source Estrogen, biohacking methodologies serve far more than spreading didactic knowledge. These protocols produce an existential knowing in our bodies and environments, leading to collective strategies that may help us out of ecological ruins. The talk describes how biohacking, as a xeno-feminist practice of care, can inevitably lead to a form of world-making, where collectivities can emerge with a radical breakage from the past.
Read more
Event
| Workshop
Sticking with the Trouble
Workshop | With Mary Maggic (on-site!)
26 November 2023 (on-site!) The Workshop is fully booked out.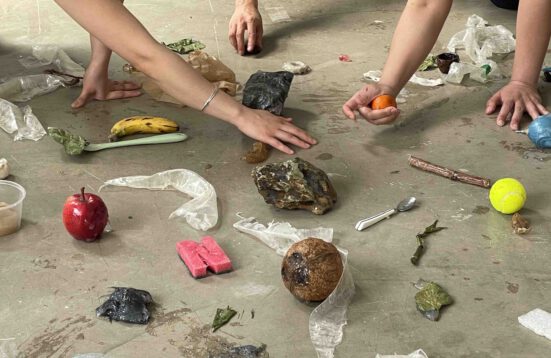 This five-hour workshop explores the use of "stickiness" as both a practice and discourse for resistance, messiness, and alien knowledging. The "stickiness" is made from an invasive plant called Kudzu, originating from East Asia and fated for eradication if found in the West. In a series of exercises that involve scavenging, blind sensing, and cooking with stickiness, participants embrace the entangled glue that binds us to disobedient relations, no matter how hard we try to separate them.
Read more
Event
| Reading Club
Reading Group UNBORN0x9
Live-Performance (online) | Reading Group SURROGACY, with Anindita Majumdar
18 November 2023 (online)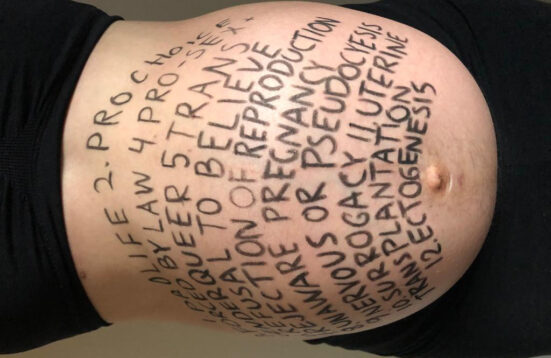 In context of our series PERMEABLE BODIES, Art Laboratory Berlin invites to a livestream performance of the Reading group SURROGACY, which is a fork-out project of UNBORN0x9, shown in the current exhibition
Matter of Flux
. Initiated by Shu Lea Cheang and Ewen Chardronnet with Future Baby Production, UNBORN0x9 reflects on the techno-scientific developments in obstetrical medicine, its social, cultural, philosophical and prospective implications and to offer an artistic view of the science in the making. During 2021-2022, UNBORN0x9 was part of the EU platform ART4MED.eu, which focuses on a methodological framework that fosters collaboration between artists, health and biomedical researchers. The online reading group aims to enable cross-border knowledge exchange – across nations, races, genders, real and virtual borders. For the studies in three specific topics – Ultrasound, Ectogenesis, Surrogacy – the online web platform incorporates reading materials, co-writing pads and online chats as multiple interface entries.
Read more
Event
| Workshop
We're not Lobsters! Queering, Decolonizing and Hacking Menstruation
Workshop | With Flo Razoux and Aouefa Amoussouvi
2 - 3 December 2023
The collective 2-day experiment aims to decolonize and queer our perceptions of menstruation. Participants will be invited to share their experiences and examine the representations of menstruation and its rituals. The group will also explore how to access and make use of scientific and technological knowledge, and understand bias. We aim to challenge the capitalist agenda, reinvent ways of harvesting data from the human body, and create alternative narratives in art, biopolitics, and technology. All genders are welcome! We recommend attending both days of the workshop but attending one single day is also possible.
Read more
Event
| Workshop
Explore Menopause: It Could Be the Best Time of Your Life!
Workshop | With Nicola Hochkeppel
17 November 2023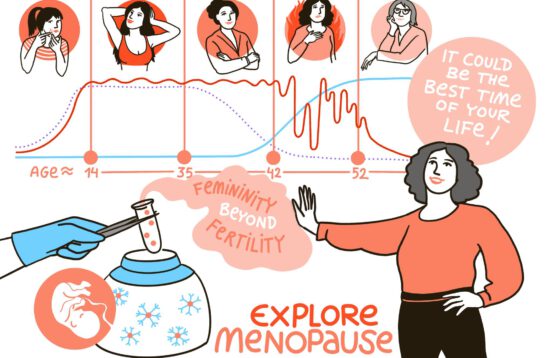 With the removal of taboos, education and empowerment, it quickly becomes clear how much good menopause can do for women, our environment and the community. The workshop provides an entertaining explanation of the basic biological phases and symptoms associated with menopause and demonstrates how the change can be experienced differently. The question however, of why we still associate femininity with fertility leads directly to political issues, which will also be discussed in the workshop.
Read more
Event
| Series of Events
Program Overview
A Series of Reading Groups, Talks, Workshops and Podcasts
May - Dezember 2023
Art Laboratory Berlin welcomes you to our new series Permeable Bodies with artistic and feminist explorations of embodiment and identity in flux, as well as an investigation of our interconnection and interaction with the environment around us. With reading groups, talks, workshops and podcasts we propose a net of narratives of permeability to encompass a poetic (post)natural history of being woman throughout 2023. The events discuss different notions of permeability approached through artistic, medical, sociopolitical and phenomenological perspectives.
Read more
Event
| Lecture Performance
Betel Nut. A Cultural Connector among Austronesian-speaking Societies
Lecture Performance | With Mooni Perry and Hanwen Zhang (AFSAR)
4 November 2023 (on-site)
In the lecture performance the artist duo Moonwen will explore the cultural and social significance of betel nut chewing among Austronesian-speaking societies in Taiwan and beyond. Drawing from their previous project Looking for Sirih (beauty), which investigated betel nut chewing culture and its sexist stigma against women selling betel nuts, Moonwen will share their ongoing research on the interconnectedness of betel nut culture and Austronesian-speaking people.
Read more
Event
| Colloquium
Research in Art, Science and Humanities
With Kristina Stallvik and Louise Mackenzie
17 October 2023
The Colloquium addresses an international interdisciplinary research audience to present and discuss past, present or future projects by artists and scholars, curators or editors from the fields of art, science and the humanities. The topics could refer to an art project, a book, text or chapter, a research or exhibition project, a lab experiment, a lecture series, a conference concept or other. The presentations and exchange will focus on the
work-in-progress
. Methodological approaches – theoretical or practical – are also of great interest here. While researching, we often tend to shift between practical inquiry and theoretical research, browsing various disciplines. Following the original meaning of colloquium as "speaking together", we want to provide a platform for exchange and embrace various kinds of work processes which are often not seen or talked about.
Read more
Event
| Workshop
Capturing Leakage: Body Flows and Material Investigations
Workshop | With Karolina Żyniewicz and Charlotte Roschka
14 - 15 October 2023
Capturing Leakage: Body Flows and Material Investigations is a two-day workshop that takes place indoors and outdoors at the Panke river. The project was developed by Karolina Żyniewicz and Charlotte Roschka and is based on the methodology of artistic research: conceptualization, sampling, and exploration. The crucial aspect of the project is building a narration based on writing, photographs, videos, sound, electromagnetic recordings, and material samples from the Panke River and Soldiner Kiez. The narrative work will be based on the contrasting activities of broadening (accumulation) and narrowing (selection).
Read more