Viscous Bodies
Sarah Hermanutz | Alanna Lynch
The project follows an open framework in showing the ongoing artistic research of two emerging artists in the field of art & science. Taking all things fluid as a starting point, the work of Sarah Hermanutz and Alanna Lynch covers themes such as amphibians, bodily borders, boundaries, marginalisation, materialism, seepage, sensory and wetlands through performance, installations, multimedia and living artworks. In addition to object and action, this project also invites the public to become engaged with the matter in manifold ways.


Alanna Lynch works with living organisms, biological materials and performance, examining the politics of affect and questions of agency. She explores an aesthetics of disgust and fear, with a focus on embodied knowledge and non-conscious forces. Her performances often explore bodies and identity as something complex and indefinable; both made up of ever more dividable parts of matter.
In her project Potentials from 2015-16 Lynch cultivated colonies of fruit flies, Drosophila melanogaster, a model organism, through their whole lifecycle, making use of microscopic photography and performative display, confronting the visitor with containers of flies in a research-like setting. This evokes reactions ranging from curiosity to disgust. Originally starting with two flies, she allowed them to multiply, developing elements of study and control as the experiment progressed. Lynch is also keenly interested in human reaction and interaction with the flies.
The new work Fermenting Forces from 2018 takes the form of a collection of DIY stink bombs. Following an online recipe, Lynch has collected various organic materials, including hair, which with the help of a magnifying glass could potentially ignite.. The materials are collected in a series of miniature bottles placed on a shelf with fabric stoppers, resembling both flacons and tiny Molotov cocktails. The work mixes a material sensuality with the potential of disgust, invoking contradictory sensory reactions from the viewer.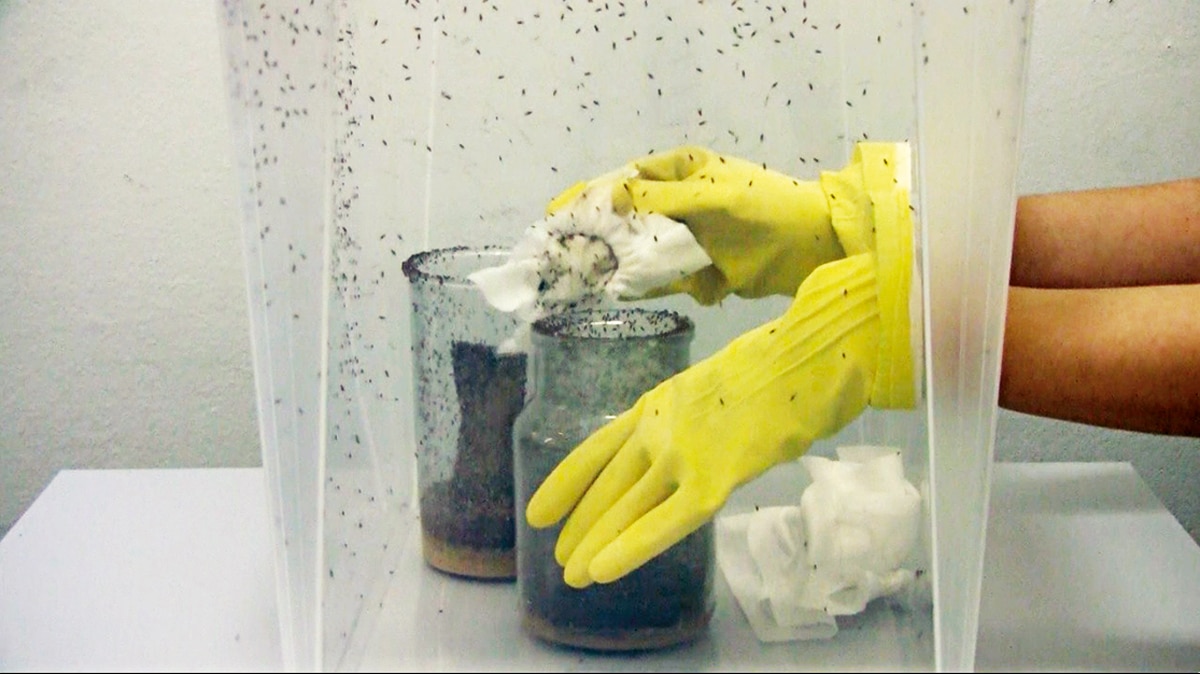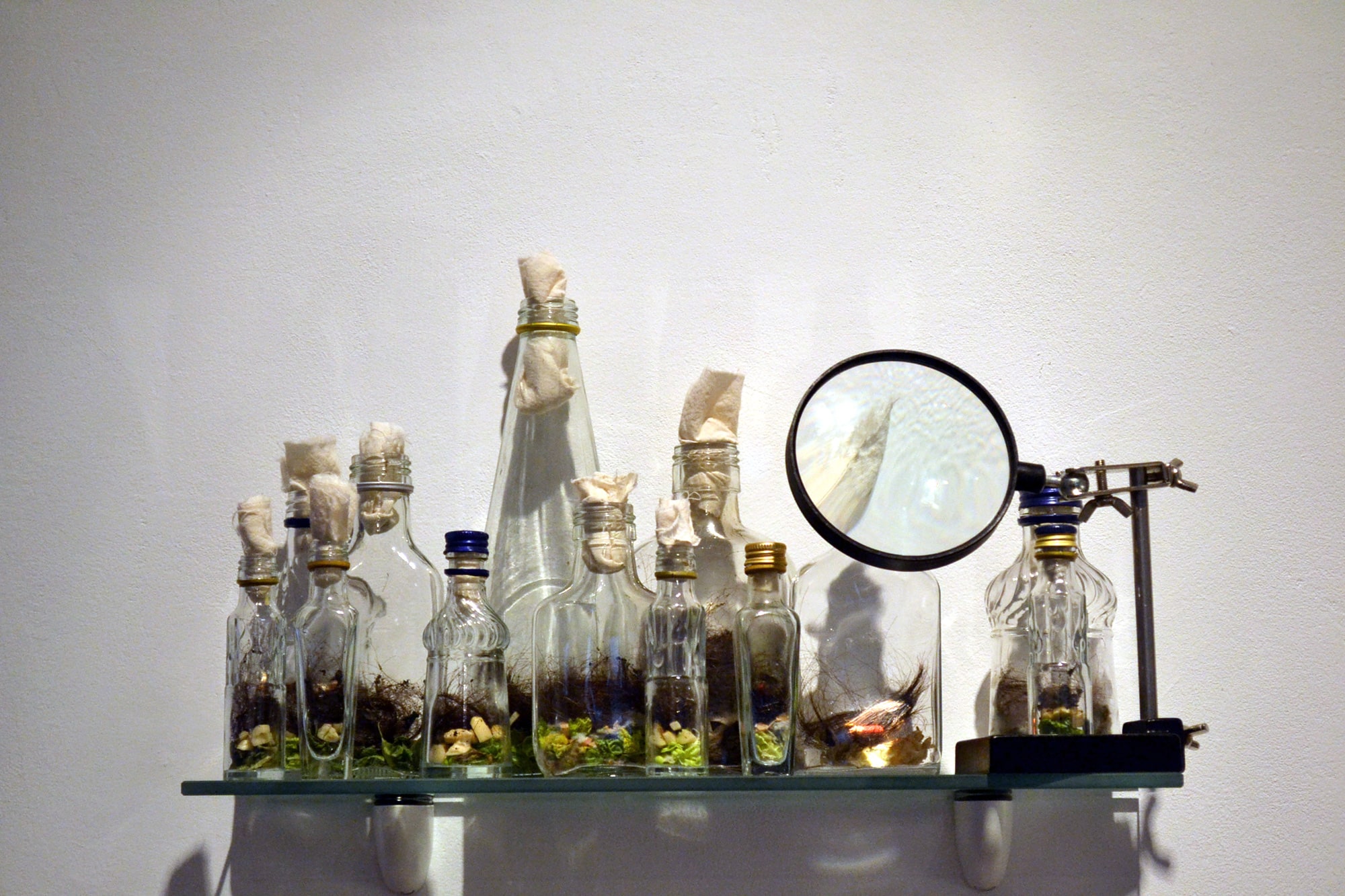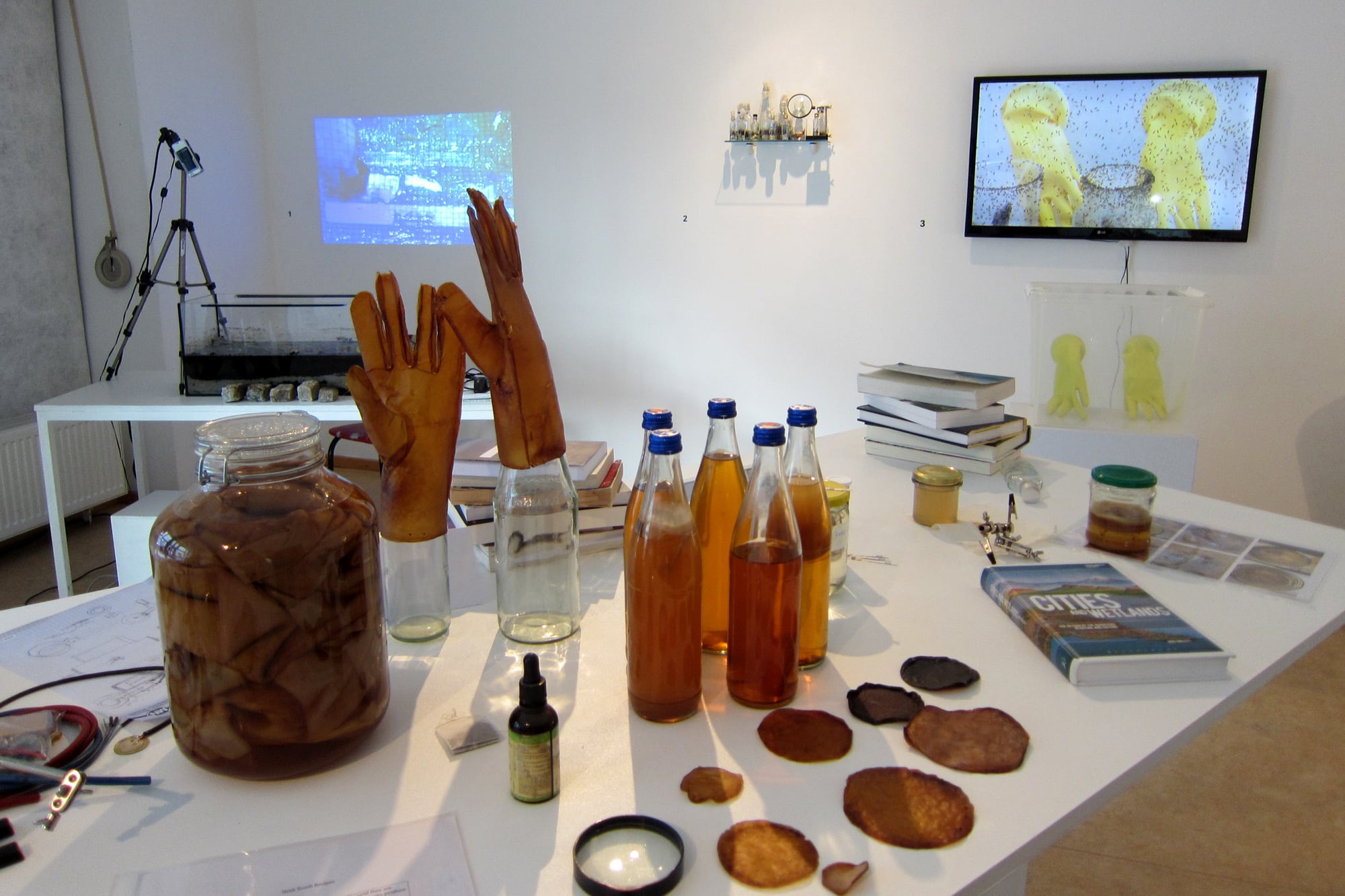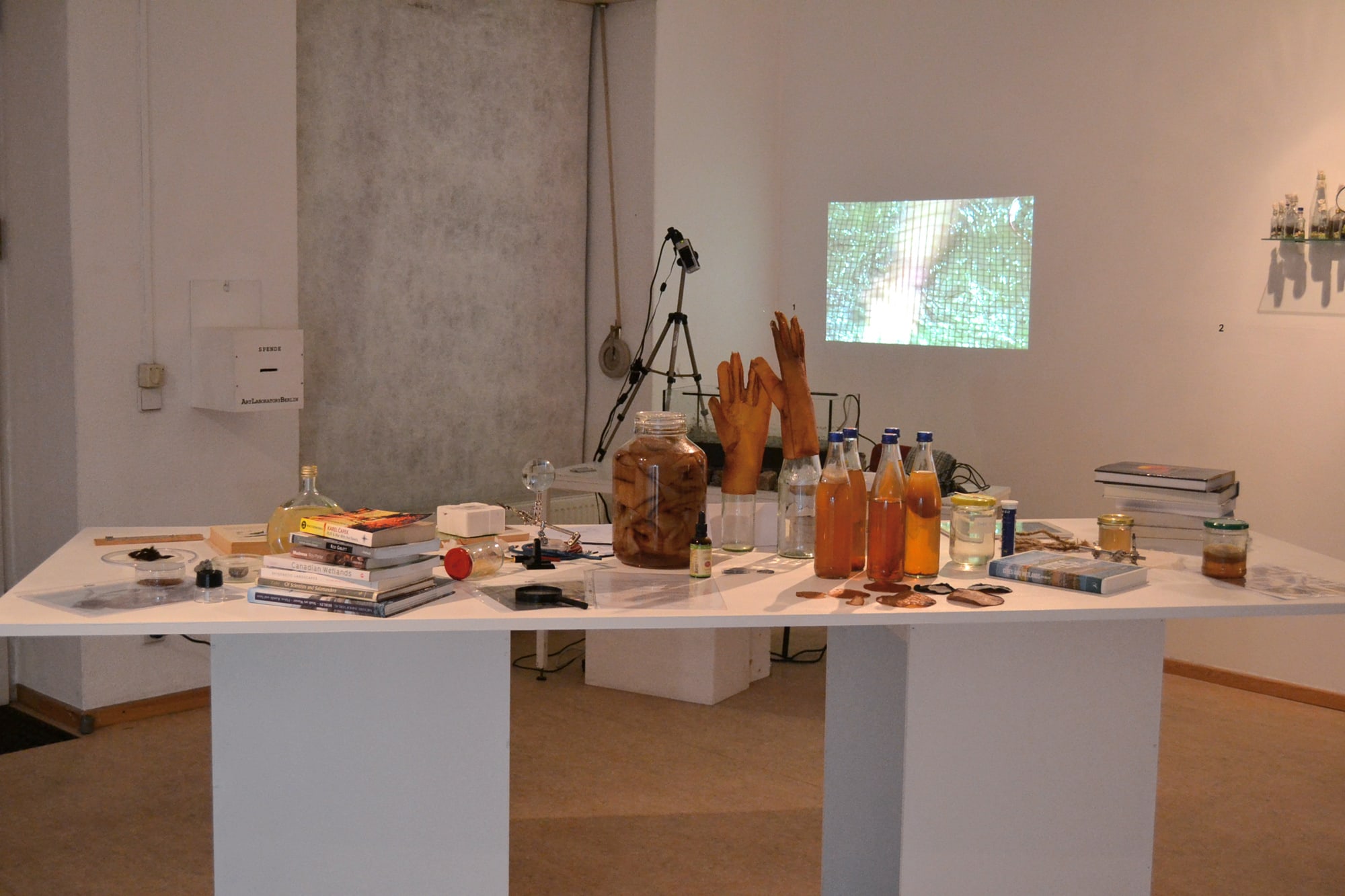 The ongoing project Gut Feelings has evolved from Lynch's interest in Kombucha, a fermented tea, the human microbiome and a visceral interest in the affect of matter. In performances and workshops the artist offers the public Kombucha tea as well as exploring the SCOBY (Symbiotic Culture of Bacteria and Yeasts) with touch, smell and taste. When this is dried it forms a cellulose that Lynch has made into gloves and other objects. She is interested in both the material forms and uses of this microbial community and the changes it brings to our own internal microbial communities – our microbiome – when ingested.
For the performance Concealed and Contained from 2009-18 she has been collecting her own hair over nine years and crocheting it into an ever-growing container which now covers her head and shoulders. In the performance she stands naked, except for the self-made form of concealment, which she then works upon: crocheting a continual work-in-progress. Simultaneously human and nonhuman, the covering functions as both clothing and vessel.
Sarah Hermanutz researches at the intersections of performance, technology, and ecology. Her sculptures, installations and performances are preoccupied with wetlands, amphibious creatures, gender and social cognition. Hermanutz considers her practice of collaboration with others, human and nonhuman, as a way of destabilising and complicating individualistic artistic agency and intent.
Live Decomposition from 2017-18, an ongoing collaboration with sound artist Nenad Popov, was performed last year in Lisbon and Berlin. Video documents Hermanutz's hands as they work through an aquarium filled with mud, sand, living and dead wetland organisms, and other collected material. Hermanutz has always had an interest in aquariums, which represent the (im)possibility of miniature ecosystems controlled by the human hands. The grid as human structure is continually undermined by the slimy mud and various organic materials, organised in strata. A layering of living, nonliving, natural and human pervades the performance, which also includes elements of visual and auditory scrutiny.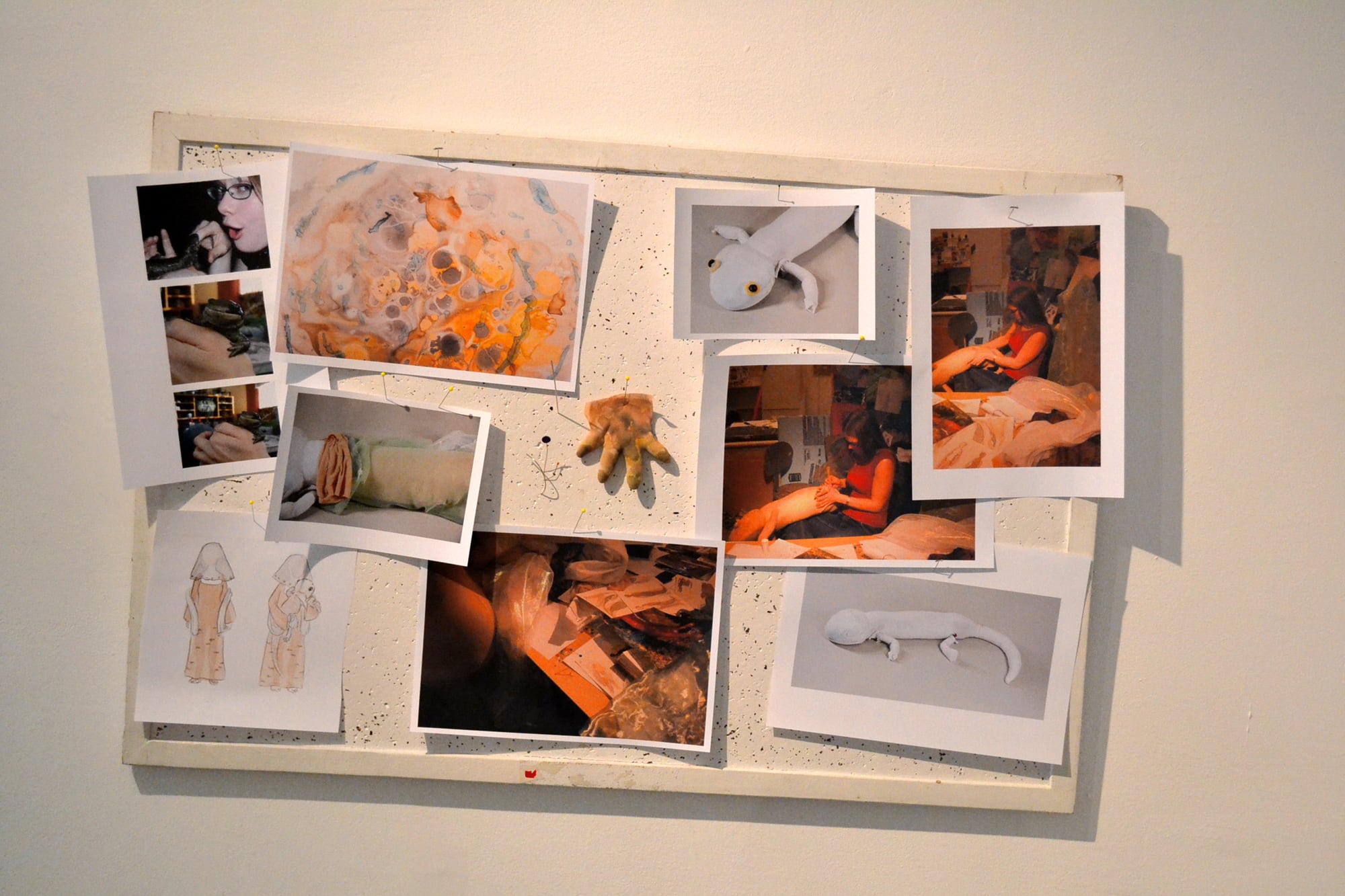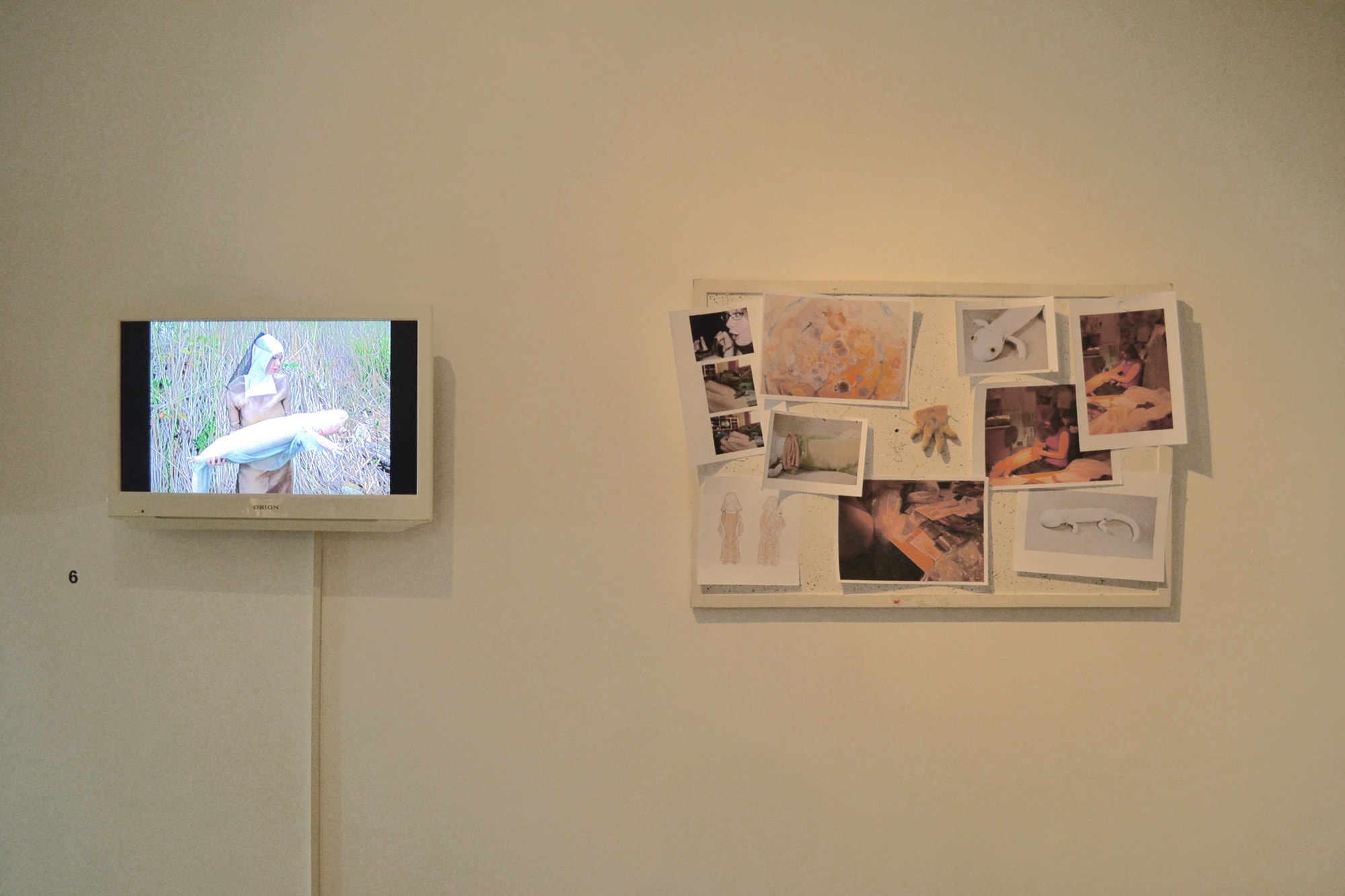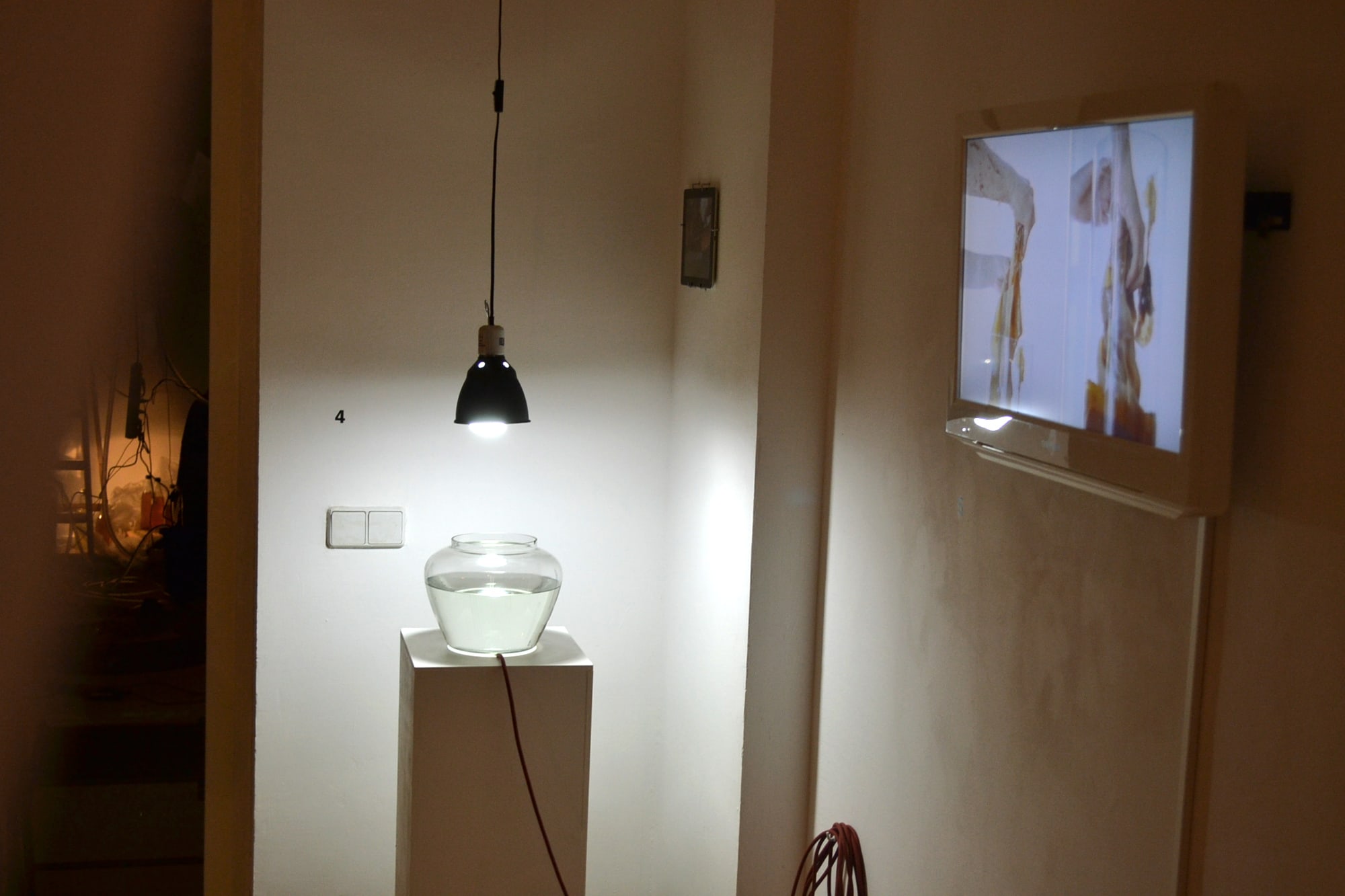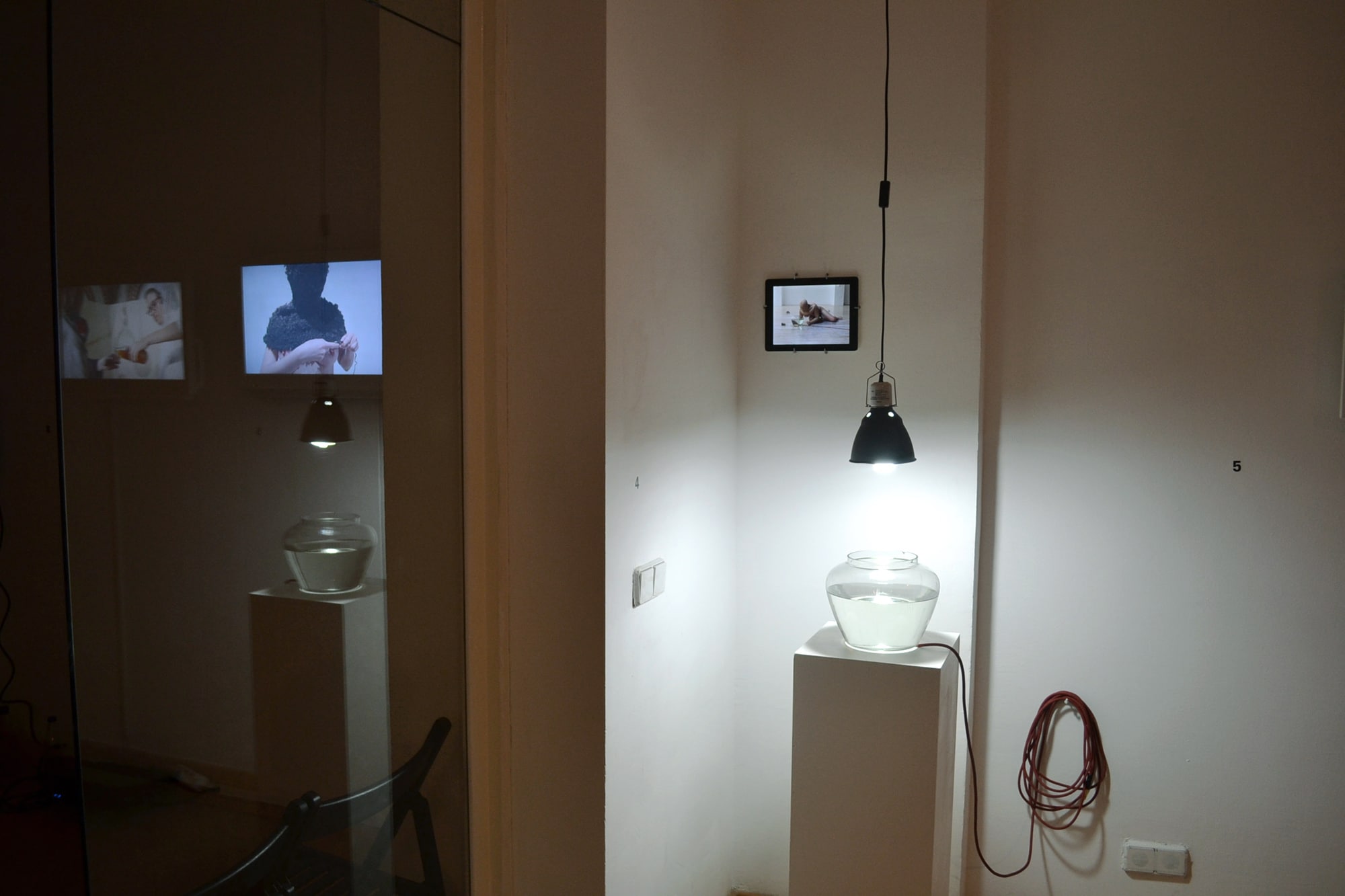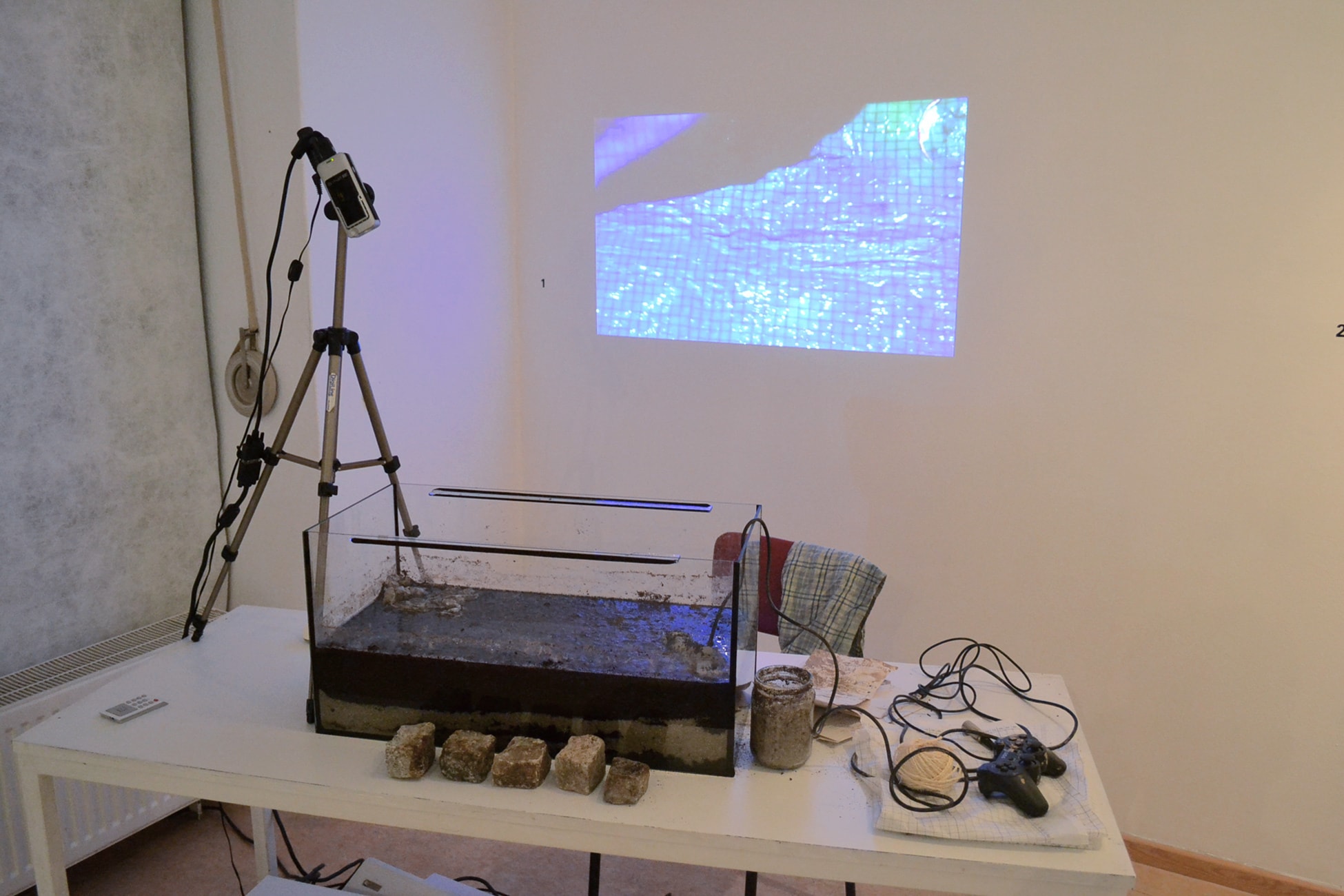 Hermanutz is also has a keen interest in amphibians – both as organism and metaphor. In Inside Bodies from 2016 an axolotl placed in a jar becomes a point for human/nonhuman contact. This assemblage was part of a collaborative project with Paula Montecinos, a Chilean performer and sound researcher, and Nayeli Vega, a textile designer, originally from Mexico, whose work engages with social practices. In the original performances a live axolotl swam in a vessel of water placed on contact microphones extending its experience of vibrations to the larger space and audience. Resonators were attached to other water vessels functioned as speakers, combining vibrations from stone, water and air, becoming media for interspecies communication.

Hermanutz has worked with axolotls and salamanders for many years, interested in their complex lives and precarious ecological situation. Her early work Salamander Mourning Veil from 2008/09, which includes drawings, photographs and performance, is an artist statement on both the mass extinction of amphibians and the degradation of wetlands, a melancholy act of caring and empathy in the spirit of Haraway's 'staying with the trouble'. The piece was performed in public space, but also enacted in an actual wetlands in Northern California. In the role of a mythical female figure – part sprite, part nun – the artist cradles a large model of a salamander, the size and weight of a toddler. In both environments there is a strong sense of the uncanny, an incongruous meeting of wild and civilised, living and dead, real and artificial. The figure of the sprite/nun enacts caring or mourning for a threatened and disappearing world.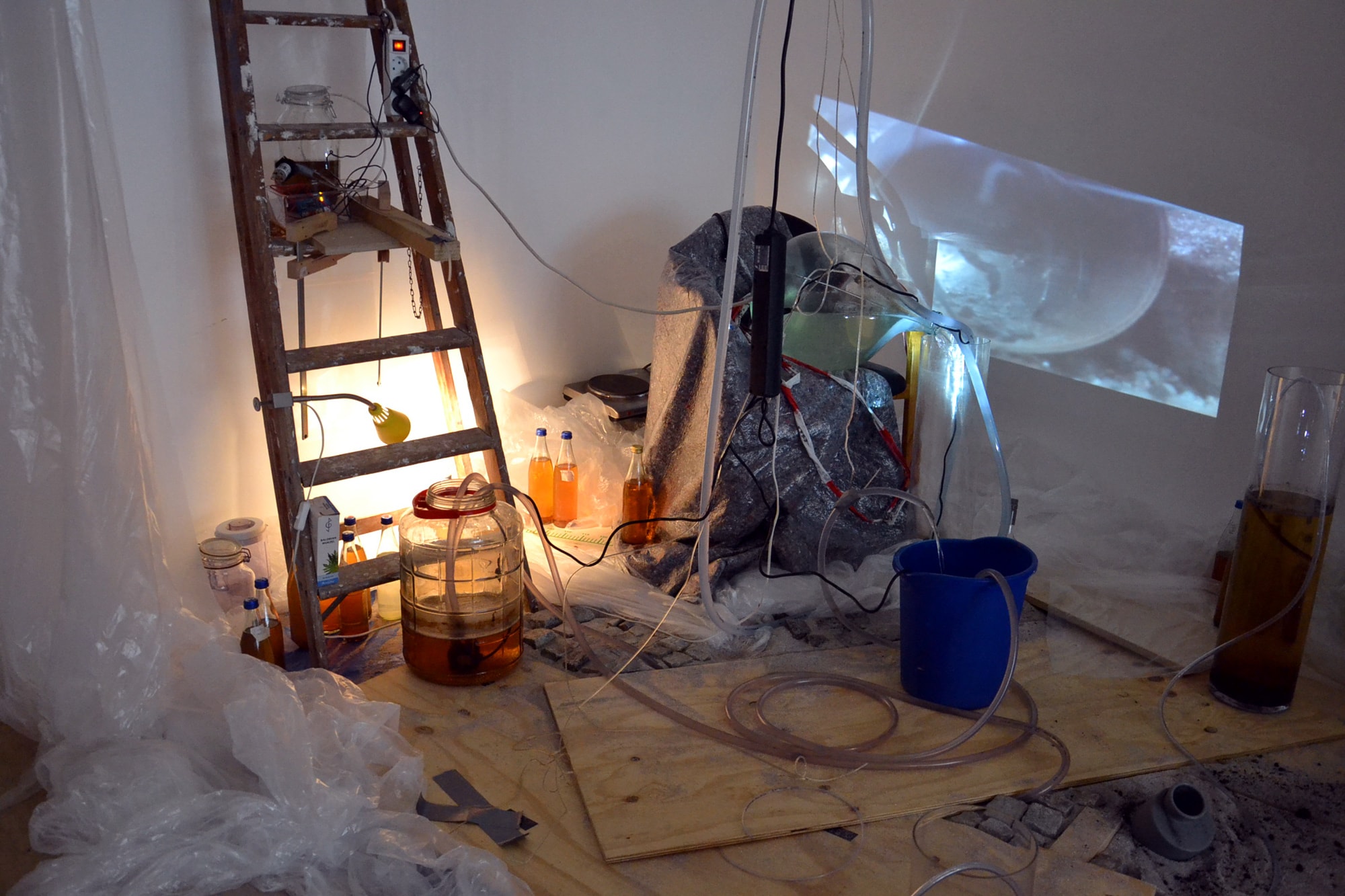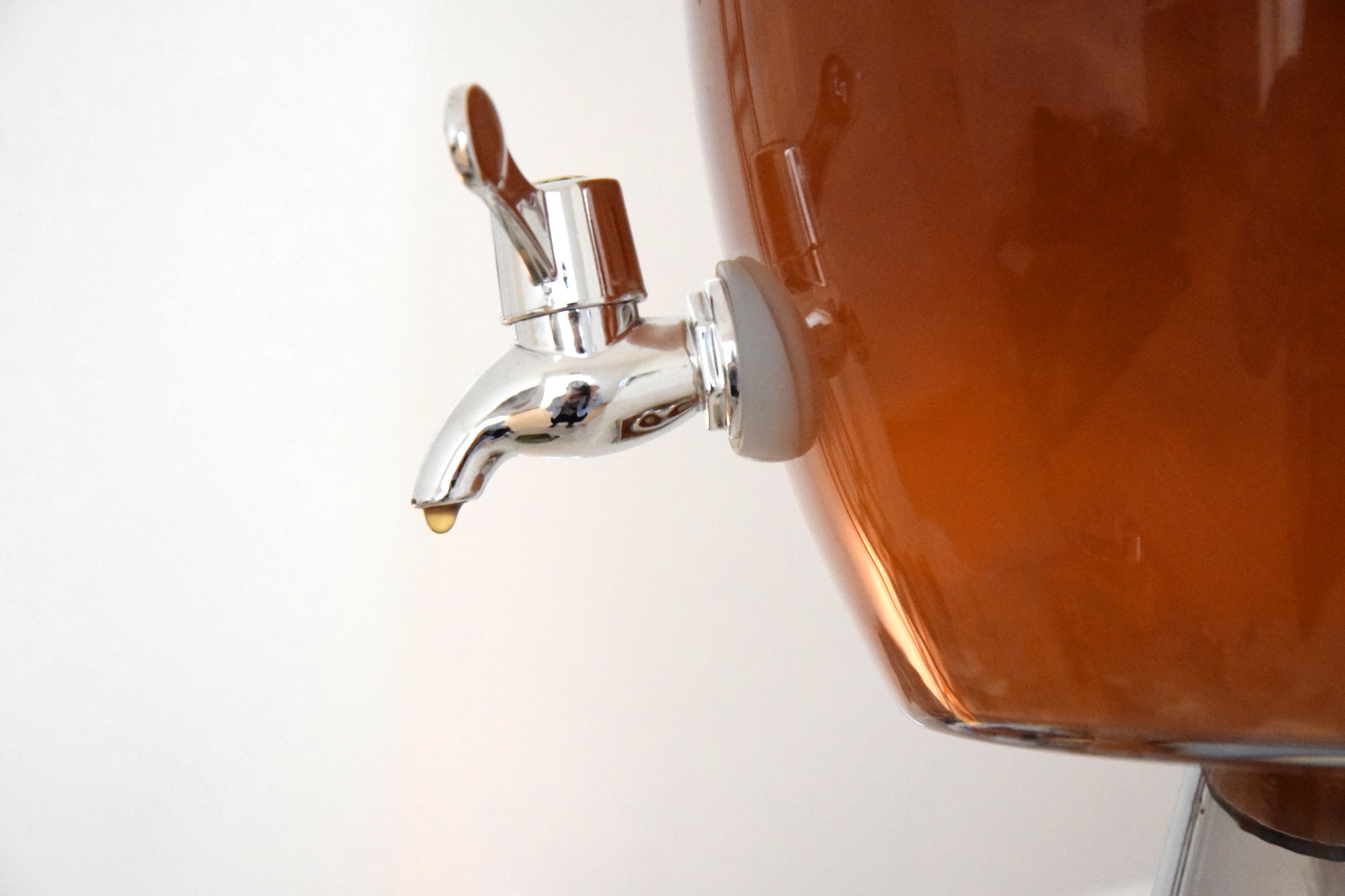 For the exhibition the two artists have collaborated on a new installation, Nervous in flux, which examines the matter and aesthetics of viscosity and fluids. The installation forms an interconnecting system of liquids, living materials, organisms and technology, encompassing the common themes in their work. Sarah Hermanutz has included several marbled crayfish (Procambarus fallax forma virginalis) the parthenogenic daughters/clones of those used in a 2014 work at ALB by Maja Smrekar. True 'daughters of the Anthropocene', these crayfish have spread through the aquarium trade and evolved to reproduce through self-cloning, all genetically identical. Lynch has filled a samovar with flax seed gel, a material of high viscosity, which is also used as an organic hair gel. The installation contains several water systems, controlled by pumps, flowing through myriad vessels over a playful combination of found objects and sand. The water is a combination of local tap water and samples from the local Panke river. The work is a research of material and process, an exploration of fluidity.

Regine Rapp & Christian de Lutz