TERRA XENOBIOTICA
Saša Spačal
Art Laboratory Berlin is glad to announce the solo show of bio media artist Saša Spačal with the newly produced artwork TERRA XENOBIOTICA (2023) based on her current artistic research.


"Terra Xenobiotica delves into the soil life hidden beneath the ceaseless traffic of airports – dense nodes of western human civilisation. Toxins are seeping into the ground, creating unfamiliar lands that call for different kinds of stewards – the ones who navigate and nurture, rather than gatekeep or extract. As humanity remains locked in an ongoing cycle, a holding pattern of take-offs and landings, the notion of a final landing lurks in an unimaginable distant future. These worlds have been studied, analysed, measured, quantified, databased and archived. It appears that everything is, or soon will be, known. At this moment, all that is left is to listen to the sonic incantations of transforming lands, strange chants generated by the artificial-intelligence-powered machines of loving care." (Saša Spačal)

Terra Xenobiotica by Saša Spačal was realised through a collaborative effort with cultural theorist Ali Sperling and was supported and produced by Art Laboratory Berlin. Additional support comes from the Rillig Lab | Plant Ecologies at the Institut für Biologie, Freie Universität Berlin, Technische Universität Berlin and SKICA Berlin.


Art Laboratory Berlin has collaborated many times with Saša Spačal: The artist was present with several works at the exhibitions The Other Selves. On the Phenomenon of the Microbiome (2016), Nonhuman Networks (2017), presented her artistic research at the international conference Nohuman Agents (2017) and had several artist residencies in 2019 and 2022 at Art Laboratory Berlin and the Rillig Lab | Ecology of Plants, Institut für Biologie, Freie Universität Berlin, which lead to the new project Terra Xenobiotica.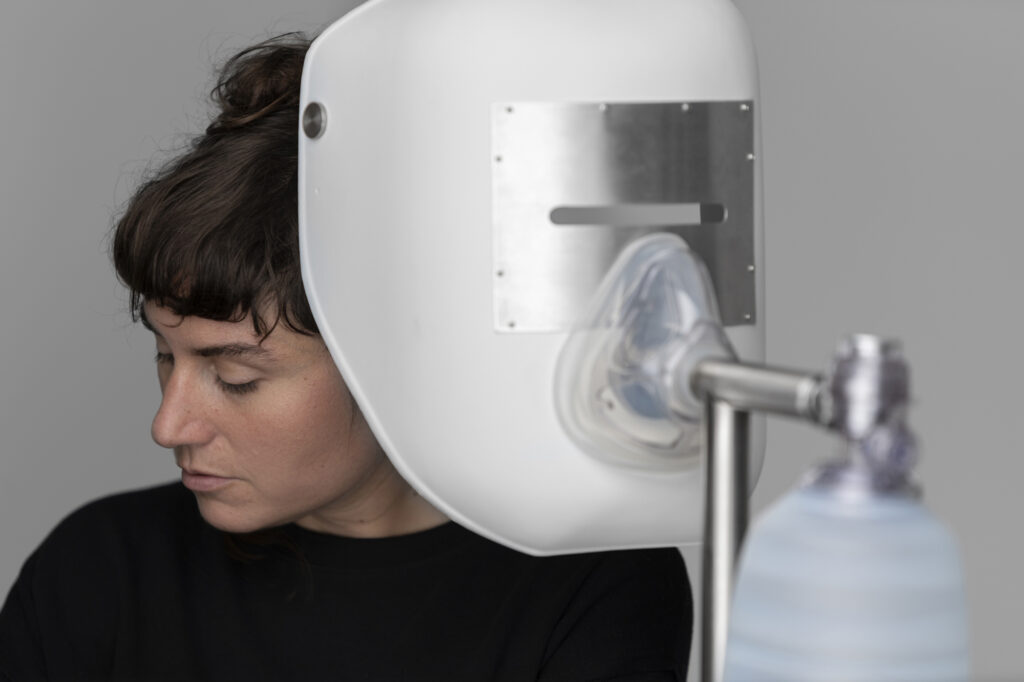 Saša Spačal (www.agapea.si) is an artist working at the intersection of living systems research, contemporary and sound art. Her artistic research focuses on the development of technological interfaces and relations with organic and mineral soil agents while trying to address the posthuman situation, that involves mechanical, digital and organic logic within contemporary biopolitics and necropolitics.
Her work was internationally exhibited and performed: Ars Electronica Festival (AT), Prix Cube Exhibition (FR), Transmediale Festival (DE), Athens Digital Arts Festival (GR), Perm Museum of Contemporary Art (RUS), Onassis Cultural Center Athens (GR), Chronos Art Center (CHN), Cynetart Festival (DE), National Art Museum of China (CHN), DaVinci Festival (KR), Museum of Contemporary Art Metelkova (SI), Kapelica Gallery (SI), Device_art Festival (CRO), Extravagant Bodies Festival (CRO), Art Laboratory Berlin (DE), Museum of Contemporary Art Vojvodina (SRB), Lisboa Soa Festival (PT), Sonica Festival (SI). She was awarded the Prix Ars Electronica Honorary Mention, nominated for the Prix Cube and the New Technological Art Award.