PERMEABLE BODIES
Reading Group UNBORN0x9
OPEN CALL | Reading Group ECTOGENESIS, with Elizabeth Chloe Romanis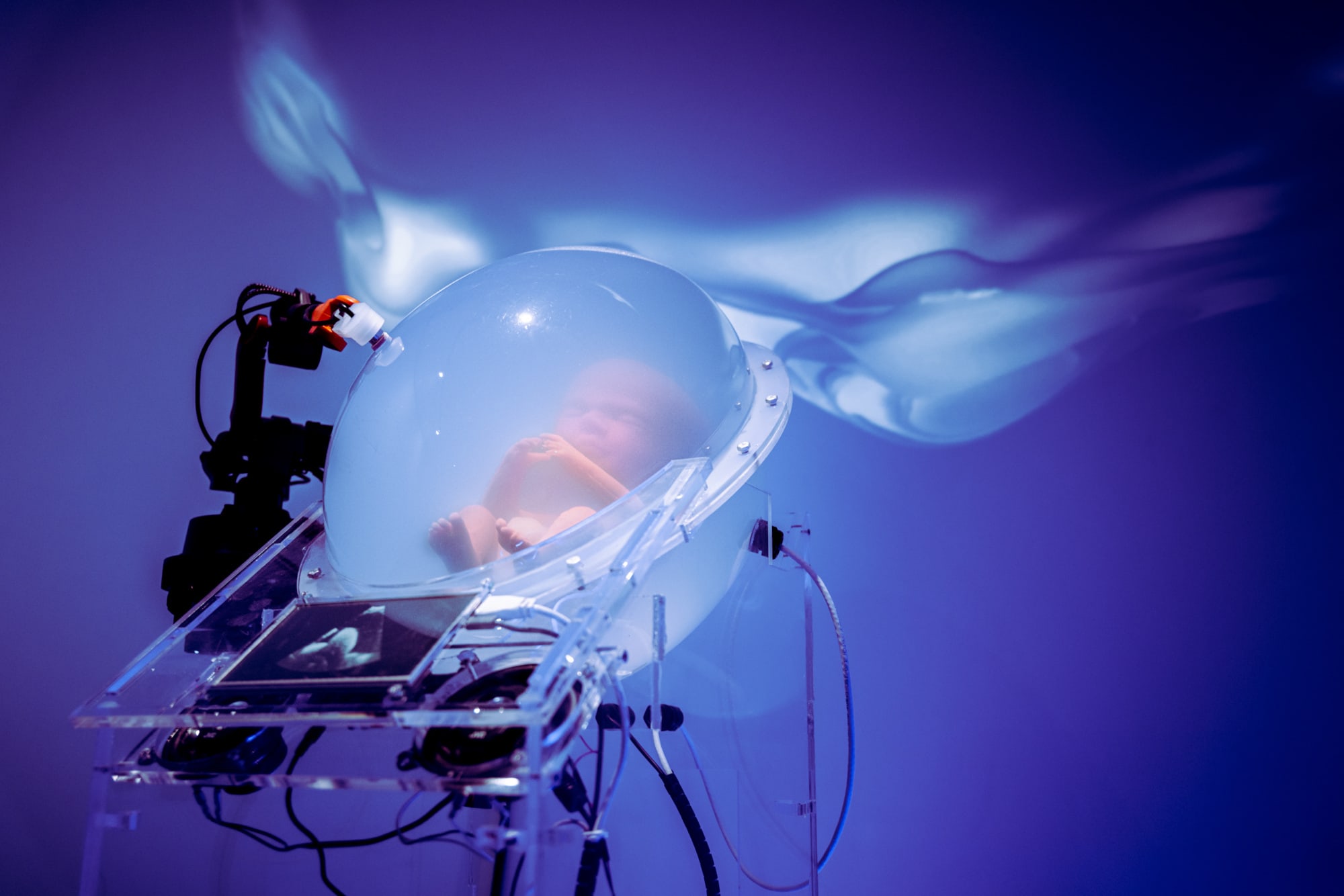 ART LABORATORY BERLIN seeks READERS on Ectogenesis

In context of our new series PERMEABLE BODIES, Art Laboratory Berlin launches a series of online reading groups as fork-out project of UNBORN0x9 showing in the exhibition Matter of Flux. Initiated by Shu Lea Cheang and Ewen Chardronnet with Future Baby Production, UNBORN0x9 reflects on the techno-scientific developments in obstetrical medicine, its social, cultural, philosophical and prospective implications and to offer an artistic view of the science in the making. During 2021-2022, UNBORN0x9 was part of the EU platform ART4MED.eu, which focuses on a methodological framework that fosters collaboration between artists, health and biomedical researchers. The online reading group aims to enable cross-border knowledge exchange – across nations, races, genders, real and virtual borders. For the studies in three specific topics – Ultrasound, Ectogenesis, Surrogacy, the online web platform incorporates reading materials, co-writing pads and online chats as multiple interface entries. Guided by a LEADER with 10 registered READERS, the online reading group aims for in-depth research/studies and motivates public debate on these topics of concern.
The first online reading group with the focus on Ectogenesis is scheduled to launch on 27 April 2023 for one month duration, ending with a Hybrid reading performance public event on May 28 2023. We have invited Dr. Elizabeth Chloe Romanis as the LEADER of the Ectogenesis reading group.

Project web platform:
UNBORN0x9, http://unborn0x9.labomedia.org


Dr Elizabeth Chloe Romanis

Fellow in Residence | Edmond and Lily Safra Center for Ethics and Petrie-Flom Center for Health Law Policy, Biotechnology and Bioethics at Harvard Law School | Harvard University | Cambridge MA Assistant Professor in Biolaw | Durham Law School | United Kingdom
From September 2022-June 2022, Chloe Romanis is on research leave undertaking a Fellowship-in-Residence at the Edmond and Lily Safra Center for Ethics and the Petrie-Flom Center for Health Law Policy, Biotechnology and Bioethics (Harvard Law) at Harvard University. Chloe Romanis is an Assistant Professor of Biolaw at Durham Law School in the UK. Chloe has a first class LLB (Hons) Law degree and a distinction LLM in Health Care Ethics and Law both from the University of Manchester, UK. She passed her Wellcome Trust-funded PhD in Bioethics and Medical Jurisprudence at the University of Manchester with no corrections in September 2020. While undertaking her PhD she also studied Reproductive and Sexual Health Law as an International Graduate Student at the University of Toronto, Canada. In 2020, Chloe was awarded the University of Manchester Distinguished Achievement Medal for Postgraduate Researcher of the Year (FHUMS).
Chloe does research in healthcare law and bioethics with a particular interest in reproduction and the body (abortion, gestation, pregnancy and birth). Chloe has published over 30 peer-reviewed articles, both co-authored and sole authored, on reproduction and reproductive technologies in leading journals in law, ethics, and medicine. She is particularly known as a leading expert on artificial wombs/placentas – her PhD examined how artificial womb technology will impact on law defining the beginning of life and birth, the termination of pregnancy and experimental treatment in neonatal intensive care. Her work on the conceptual distinction between ectogenesis and neonatal intensive care is a key reference point on understanding what ectogenesis is. She is currently writing a book about ectogenesis and other technologies for Oxford University Press that will be published in 2024.

Elizabeth Chloe Romanis:
@ECRomanis
@DurhamLawSchool @DurhamCELLS @DurhamGLAD
@HarvardEthics @PetrieFlom

On Ectogenesis

It is now almost impossible to read about ectogenesis (gestation outside the body) in the press without an accompanying reference to the artificial wombs of the "hatcheries" in Aldous Huxley's novel Brave New World (1932). The current technological context, however, goes far beyond the techno-scientific context and the ethical debate that led Huxley to write his novel 80 years ago. Since most likely Partial Ectogenesis will happen in the decade to come (to help save premature babies), it is urgent to discuss the different ethical challenges of the growth of an embryo and then foetus outside the body of a person assigned female at birth. Partial ectogenesis changes the way we understand viviparous pregnancy as we know it, but also to a changing status of the human life that would completely or partially grow outside the human body: neither a fetus nor a newborn, (that Romanis calls a 'gestateling' ) is an unborn human entity between 0 and 9 months. The many recent techno-scientific developments – perinatal life support systems, AI gestation monitoring and AI placentas, fetus transplantation, etc. – that could lead towards democratization of ectogenesis in the decade raise numerous questions: the possibility of saving the lives of very premature babies or of pregnant people experiencing risky pregnancies; the economic class inequalities caused by the costs of the ecto-technological devices/ 'artificial wombs' based on who has access to the technology to either minimise the length of time they must be pregnant, or even to make it so they never have to be pregnant at all to become a parent. There are also other complex questions – what does the end of embodied gestation relationship mean for parent and child, how will society respond to gestation outside the body: there is a complex legal relationship between abortion and technology, which ectogenesis would further impact. Gestation outside the body, whether partial or complete, also has the opportunity to change the way we think about gender and reproduction and improve procreative experiences for LGBTQ+ persons, but there are also concerns about how it might commodify gestation and lead to the policing of the pregnant body. This reading group explores these complexities.

Relevant Literature

https://jme.bmj.com/content/44/11/751.abstract
https://academic.oup.com/medlaw/article-abstract/28/1/93/5510054
https://academic.oup.com/jlb/article-abstract/7/1/lsaa059/5918485
https://jme.bmj.com/content/47/12/820.abstract


OPEN CALL FOR READERS

The OPEN CALL for Ectogenesis seeks READERS who have basic knowledge and specific interests on the topics of ectogenesis and reproduction issues. THE READERS can reside anywhere in the world and still take part. The month long reading and discussion sessions (to be launched on April 27) takes place entirely online at UNBORN0x9 reading group web platform (https://unborn0x9.labomedia.org/webplatform/). This reading session ends with a public debate performance joined by the group's LEADER and 10 READERS and held in hybrid mode (online and at Art Laboratory Berlin on-site) on 28 May 2023.
To join the reading group, the READERS agree that their contribution in writings and chattings on the platform are archived and made accessible to the public after the session ends. Further publication of the texts would seek agreements among all participants.

PLEASE APPLY HERE.


UNBORN0x9, http://unborn0x9.labomedia.org
Matter of Flux, Art Laboratory Berlin, 26 May – 9 July 2023


The 1st Reading Group on ECTOGENESIS is scheduled for 27 April – 27 May 2023.
The 2nd Reading Group on ULTRASOUND is scheduled for 1 June – I July 2023.
The 3rd Reading Group on SURROGACY is scheduled for 16 October – 18 November 2023.


Further OPEN CALL for READERS on the other two reading groups will be announced soon.