Mind the Fungi
Mushroom Cultivation Courses | TOP Lab
TOP Lab is happy to announce its collaboration on Mind The Fungi, a research project of TU Berlin, Institute for Biotechnology and Art Laboratory Berlin (2018-2020). Within the collaboration, TOP Lab will host a mushroom home-cultivation course for 4 Saturdays from 27 April 2019 to 18 May 2019.
By taking the course, you will learn how to isolate and grow mushrooms for different purposes. You will learn to create and shape own mycelium based objects, such as packaging materials, furniture, building materials and even leather. Additionally, you will learn how to set up a culture to grow edible mushrooms. You will also participate in a mycelium packaging experiment, grow together a mycelium box and ship it per post to test the material's resistance.

What experience will you get by attending the course?

• Learn directly from TU Berlin scientists and TOP Lab's practitioners how to grow fungal mycelium at home for different purposes.
• Bring home some fungi growing on agar plates, a custom shape object made of mycelium and an inoculated bag out of which will grow edible mushrooms.
• Learn how to set up a self-organized mycology laboratory at home.
• Participate into a scientific project about biomaterials.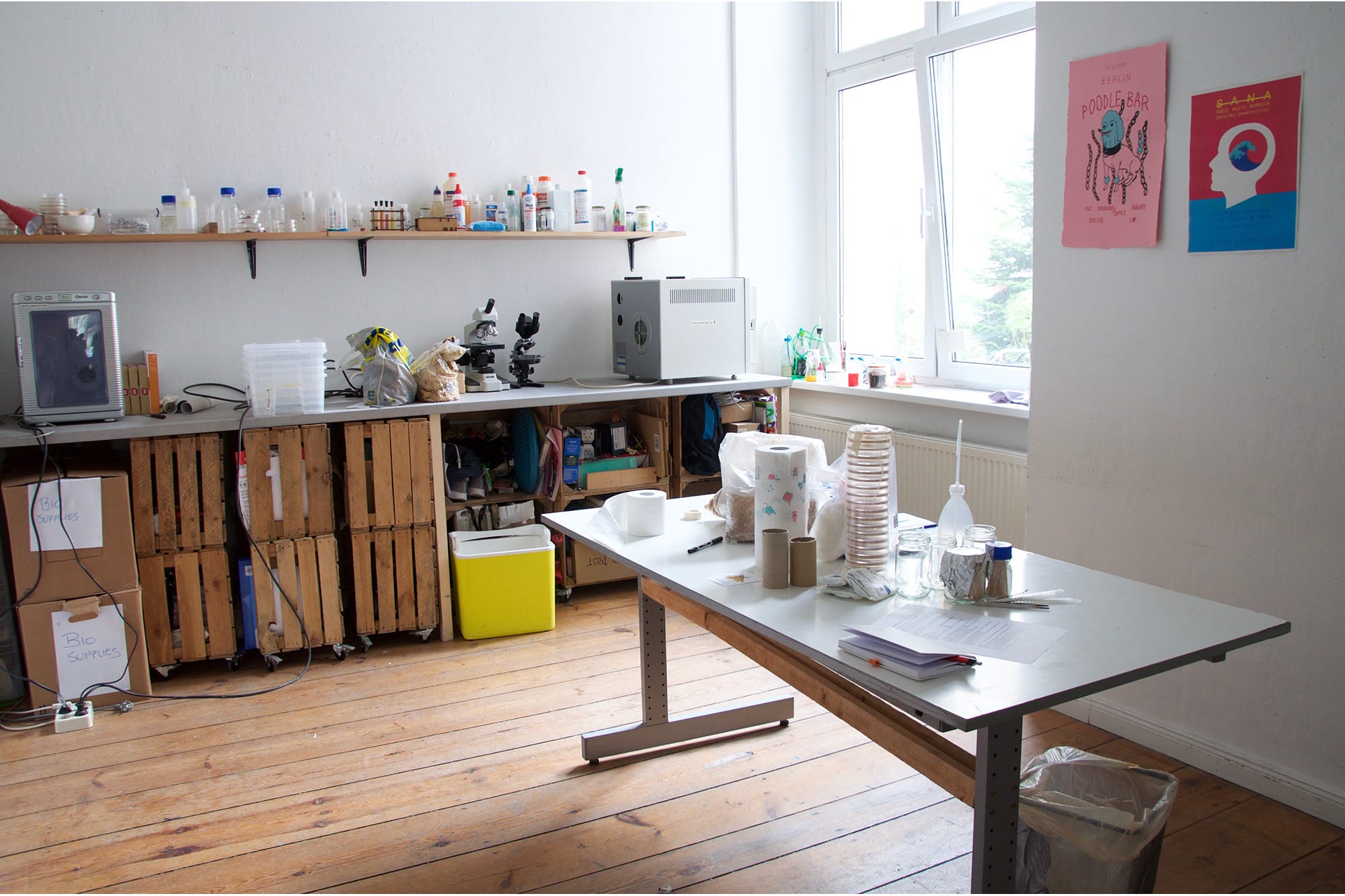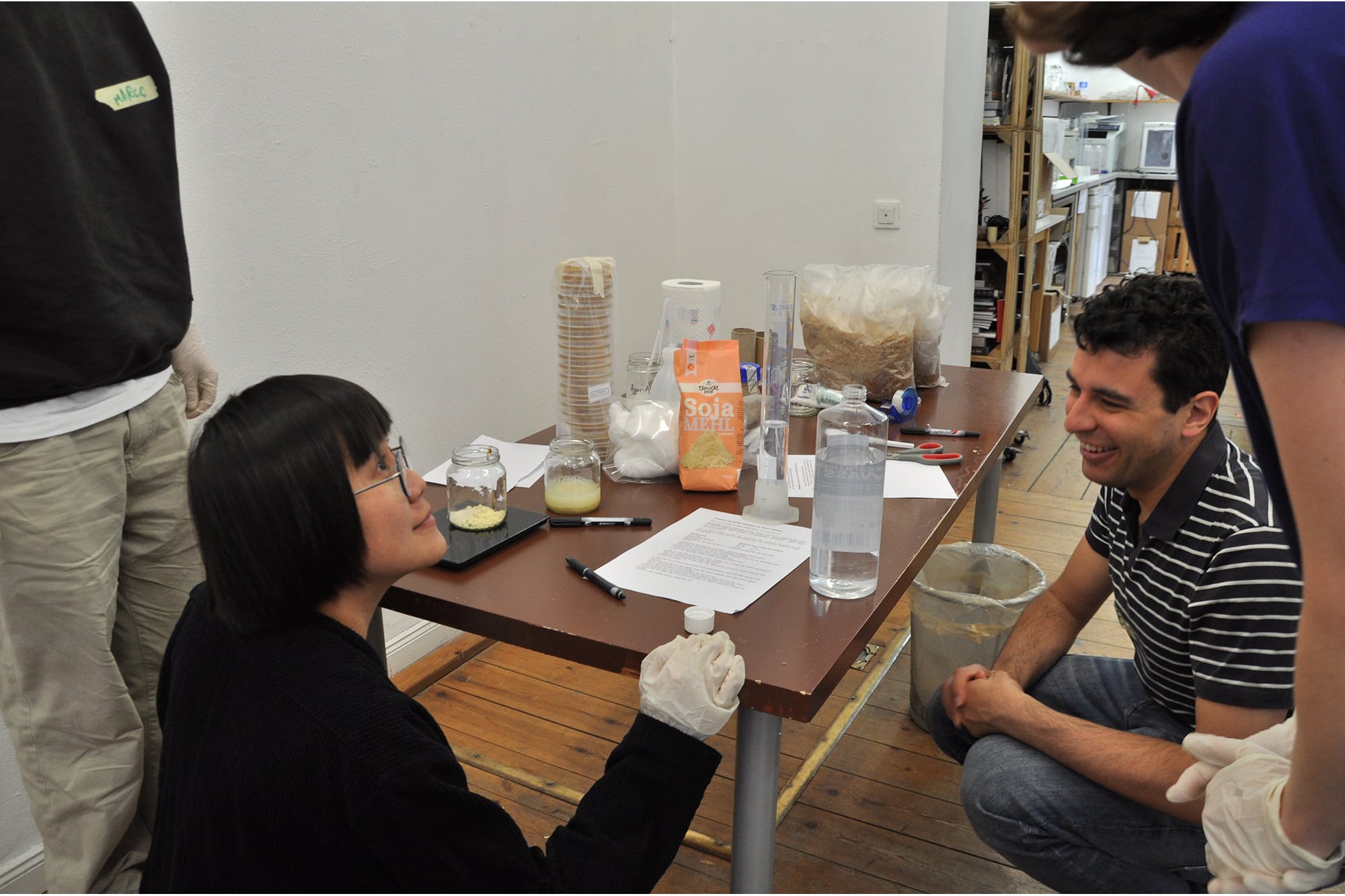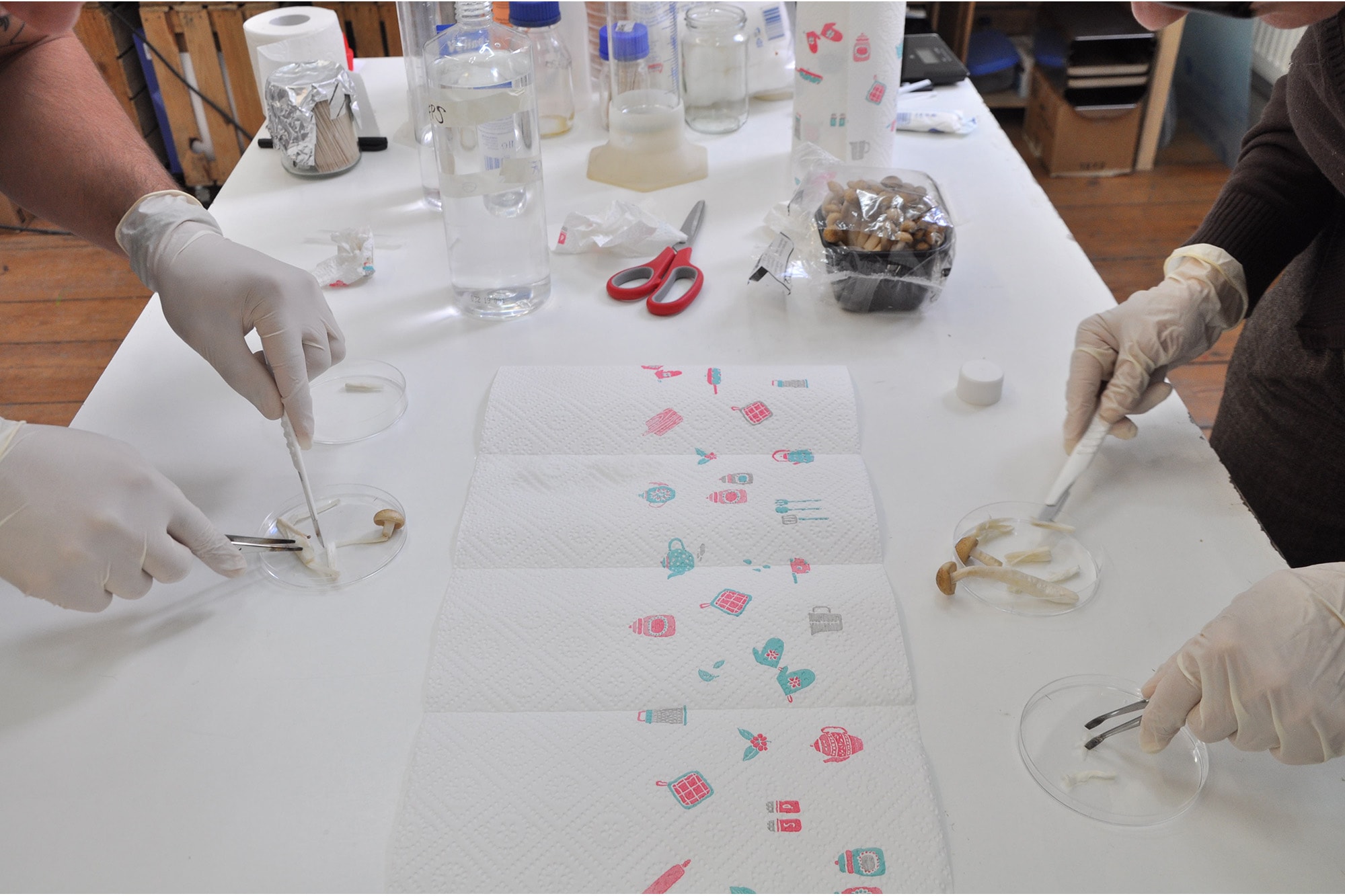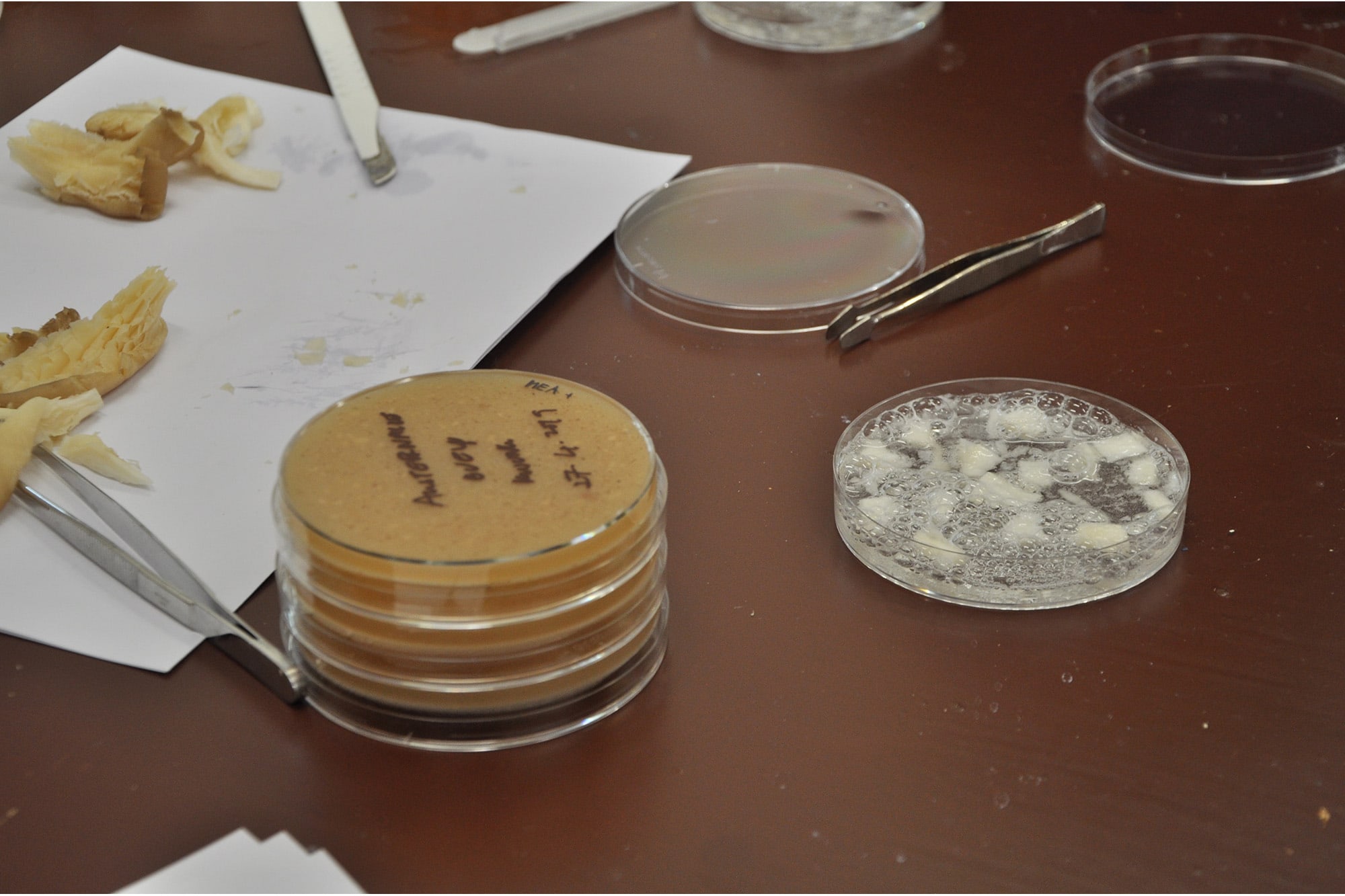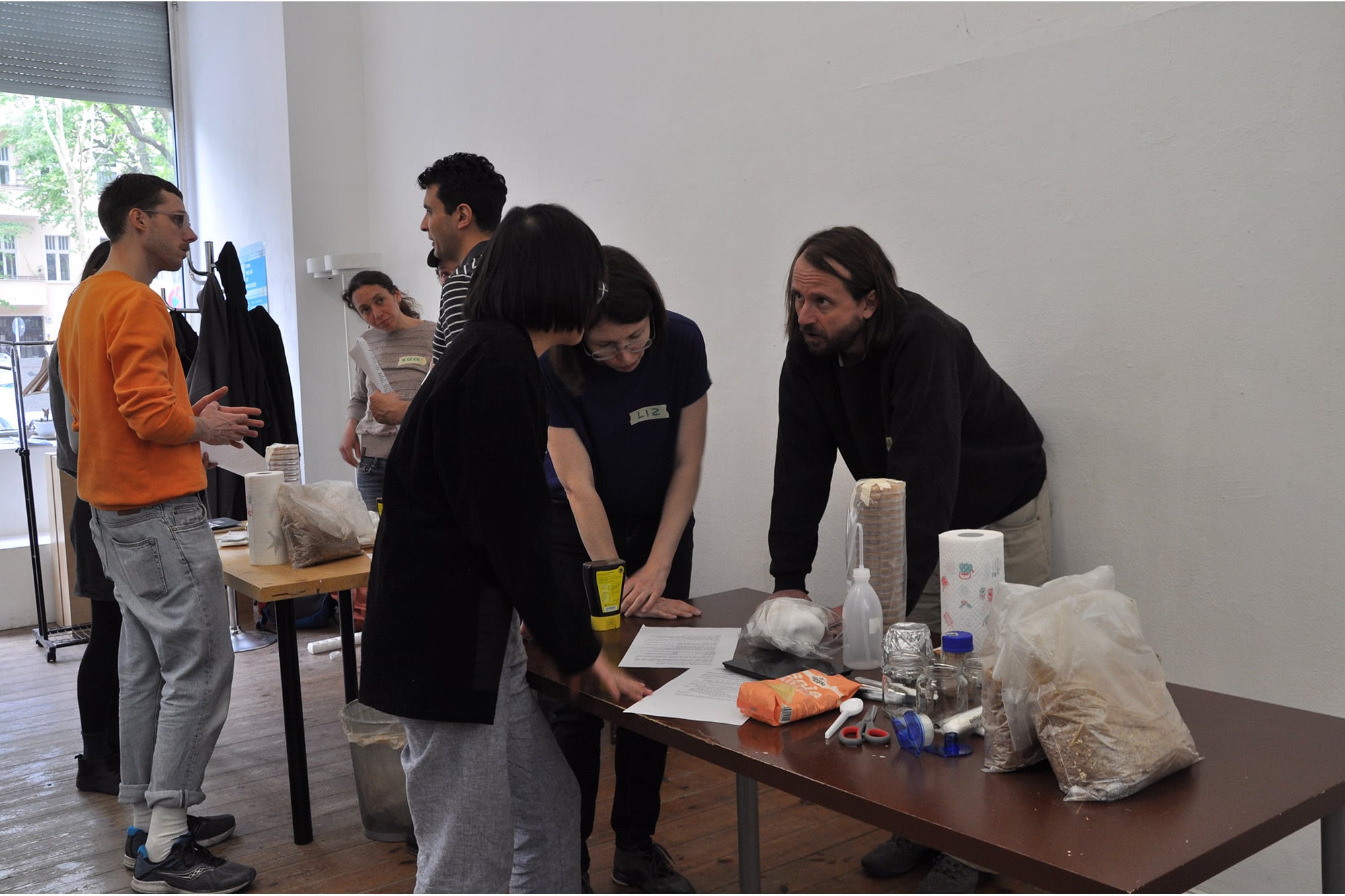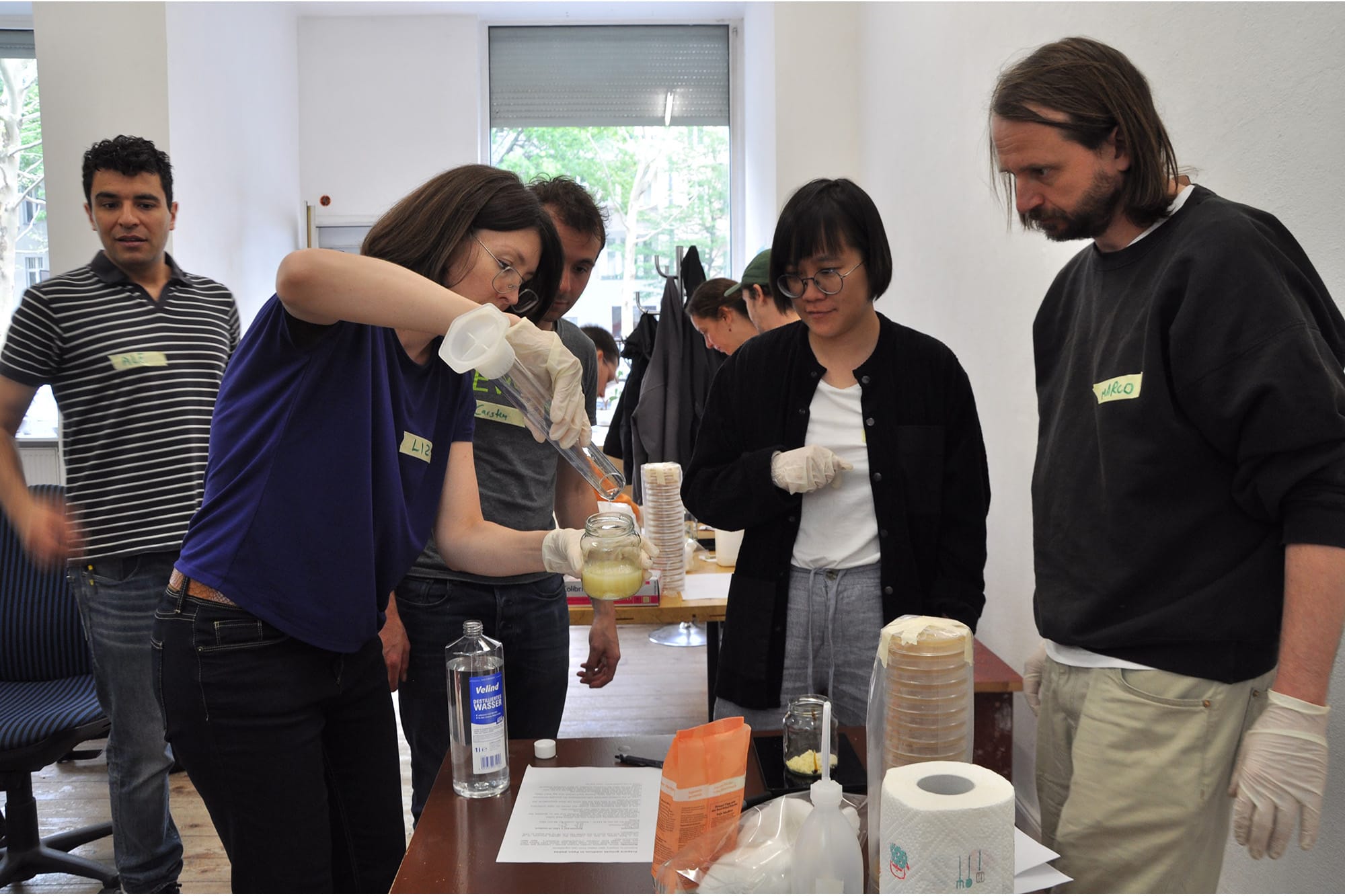 Program

Day 1
This is the first meeting of the workshop that you are expected to attend for fundamental introduction to the four-week-long workshops.
• Get introduced into the "Mind the Fungi" project
• Mycology* and laboratory crash course
• Start your fungal cultures for the project
*Mycology is the branch of biology concerned in the study of mushrooms
Day 2
• Learn about applications of mycelium as biomaterial
• Learn how to shape a mycelium culture to create objects
• Expand a fungal culture in a jar or in a shaped object
• Isolate a mushroom
Day 3
• Learn about the industry that grows edible mushrooms and how to grow your edible mushrooms
• Expand your culture in a big grow bag and grow the fruits
• Isolate a mushroom
Day 4
• Keep isolating your mushrooms
• Network event: beer and mushroom
The last day of the workshop! You will be discussing what you have learned throughout the session and preparing your materials to share with public in pop-up exhibition at TOP Transdisciplinary Project Space.
More information: http://www.top-ev.de/biolab/mind-the-fungi/




Alessandro Volpato

Mushroom Cultivation Courses and Citizen Science

The motivation behind our Do-It-Yourself science practices is the better inclusion of citizens in the process of designing the future technologies and materials of our society. For untrained individuals to take part in this discussion, they have to understand the scientific back-ground behind the proposals, whose implications need to be thoroughly explained. At TOP, we approach science from a citizen perspective, train practitioners to technically pursue their own goals, and foster critical discussion about science and innovation. The project Mind the Fungi required us to design a course about the applications of mycology for the improvement of sustainability in human activity, aiming to bring research out of institutions and generate interdisciplinary ideas among citizens and scientists. To achieve that, the course's challenge was to provide scientific training to citizens and build a laboratory set up for research outside the university. A crash course approach was used, where essential know-how was given at appropriate moments, while using household materials to reproduce laboratory setups, equipment, chemicals and protocols. Eventually, participants were able to grow / fabricate fungal materials using household resources in four non-consecutive workshop days, and felt confident in starting their own projects.

From my personal perspective as a science practitioner outside the university, arranging this course was a satisfying experience, due to the synergies created among the institutions involved, which together pushed the goal of making science more accessible to Berlin's citizens and involved them into TU Berlin's research activities. Nevertheless, the enthusiasm those citizens brought to the project was a sign that society reacts positively to these initiatives. Picking up inputs from diverse perspectives, such as art, design, engineering, programming or other sciences, triggers the exploration of new interdisciplinary re-search areas. In addition, scientists and trainers can bet-ter understand the expectations of an inquiring society, and in this case, the public involvement in sustainability and biomaterials. Educated citizens can better evaluate their decisions. And last but not least, the collaboration between institu-tions and grass-roots movements, merging Citizen Science and DIY Science approaches, is the key to including indi-viduals into a responsible technological advancement.

Thanks for contributing to Flavia Barragan, Tuçe Erel and Max Fowler.

Alessandro Volpato: "Mushroom Cultivation Courses and Citizen Science", in Mind the Fungi, ed. by Vera Meyer and Regine Rapp, Berlin 2020, p. 65-66.

Digital version of the book here available.