Current exhibition:
[micro]biologies II: πρωτεο / proteo - Joanna Hoffmann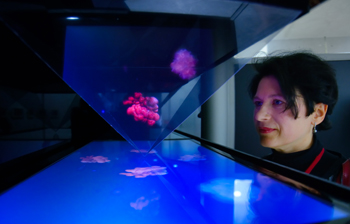 Opening: 23 January, 2015, 7PM
Exhibition runs: 24 January - 29 March, 2015
Opening hours: Fri-Sun, 2-6PM and by appointment. Also open on Thursday 29 January from 2-6PM
Curators Talk: 1 March, 2015, 3PM
Artist Talk: 29 March, 2015, 3PM

[micro]biologies II: πρωτεο / proteo featuring artworks by Joanna Hoffmann is the fourth and final exhibition of the [macro]biologies & [micro]biologies series at Art Laboratory Berlin. The exhibition explores the minute biomolecules that form a basis for the phenomena of life.

Joanna Hoffmann's transdisciplinary works combine art, microbiology, physics and technology. Her use of multimedia installations, 3d stereoscopy, experimental video animation and other media explore the visualization of sub-atomic and molecular as well as cosmic space. Her work relates to advanced scientific research on the phenomenon of life and to the interplay between scientific and cultural, sensual and illusive, digital and biological, natural and synthetic.

[micro]biologies II: πρωτεο / proteo is intended as a laboratory of imagination. It brings together a few threads of artistic research being developed within the frame of the long-term project "Hidden Topologies of Being" inspired by the atomic structure of protein molecules, named "basic bricks of life". Their complex geometries are in turn compared to Calabi-Yau spaces, in which, according to superstring theory, successive dimensions of our world are "curled up" at the subatomic level. If the scientific hypothesis about multi-dimensional nature of the world is true, then these hidden spaces are everywhere, in each "point" of the space outside as well as inside us.

What does it mean for us to live in a multi-dimensional universe, or even multiverse? What kind of tools do we have to apprehend the invisible?

The exhibition space at Art Laboratory Berlin will be transformed into a multimedia installation. The core of the exhibition will be the work πρωτεο / proteo, whose title refers to Greek root of the name protein (Gr. πρωτεῖος the first, in the lead). πρωτεο / proteo is an animation in which a cloud of particles creates a mini-universe folded in the form of Calabi-Yau space. It gives birth to a convoluted protein molecule and its dynamic molecular 'dance of life', in a poetic way brings to mind a question about the relations between the energy, matter and form. The animation creates an effect of a hologram inside a transparent pyramid. It is a kind of virtual incubator, in which the process continues to develop and repeat itself.

By using technologies as diverse as Pepper's ghost (a forerunner of holography) and 3D video, Hoffmann's work presents the viewer with a set of structures for scientific, philosophical, and aesthetic wonder and analysis. Merging interpretations of scientific data, image, sound and poetry, πρωτεο / proteo poses questions about the challenges and boundaries of our cognition creating an emotional bridge between our daily experiences and the abstractness of contemporary science.

For this exhibition Joanna Hoffmann will be working in collaboration with sound artist and composer Andre Bartetzki.

(More information)

Part of the 2015 Vorspiel programme of the transmediale and CTM

Cooperations partners:




Media partner:


30. January, 2015, 7PM: Opening of the [macro]biologies & [micro]biologies Library
Parallel to the exhibition [micro]biologies II: πρωτεο / proteo we will present the [macro]biologies & [micro]biologies library, where one can study source material and documentation connected to all
four exhibitions and the many events of the series.


Last exhibitions:

[micro]biologies I: the bacterial sublime
Anna Dumitriu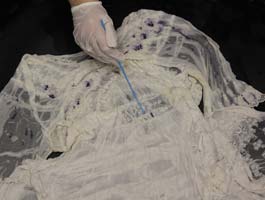 Anna Dumitriu - Communicating Bacteria

Opening: 26 September, 2014, 8PM
Exhibition runs : 27 September– 30 November, 2014
Opening hours: Fri-Sun, 2-6PM and by appointment.

Artist talk: 28 September 2014, 3PM
Workshop with Anna Dumitriu: 30 November, 2014 (registration only)

The third exhibition will be a solo retrospective of British artist Anna Dumitriu, whose work in the field of art and science brings together historical narratives, cutting edge biomedical research and an interest in ethical concerns.
Dumitriu is well known for creating "The VRSA Dress" & and "The MRSA Quilt" which were made from so-called 'superbugs'. To create those works she grew bacteria onto textiles and used natural and clinical antibiotics to create patterns (sterilised prior to exhibition).
The exhibition will also include works from her "Romantic Disease" series which explores the history of tuberculosis (TB) from artistic, social and scientific perspectives and covers subjects such as superstitions about the disease, TB's literary and romantic associations, the development of antibiotics and the latest research into whole-genome sequencing of mycobacteria.
More information


Made possible through the support of: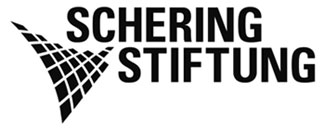 Media partner:


Cooperation partner:


[macro]biologies II: organisms
Suzanne Anker
Brandon Ballengée
Maja Smrekar


from left to right: Suzanne Anker, Maja Smrekar, Brandon Ballengée
Vernissage/ Opening: 30 May, 2014, 8PM
Exhibition runs : 31 May– 20 July, 2014
Opening hours: Fri-Sun, 2-6PM and by appointment. Open 27 June until 9PM

Sunday 1 June, 3PM - Artists and curators Talk (all artists are present)
Friday 27 June, 6.30 PM - Integrating Nature's elegant solutions into the design process - a Talk with Dr. Prateep Beed, Co-Founder of Biomimicry Germany e.V. (in English)
Sunday 6 July, 3 PM - Tour of the exhibition with the curators and ALB staff
Saturday 19 July, 2 - 4 PM - Children's Workshop with Desiree Förster in conjunction with the exhibition (in German)
Sunday 20 July, 3PM - Artist talk with Maja Smrekar, followed by finissage

The second exhibition of the series [macro]biologies & [micro]biologies, [macro]biologies II: organisms will highlight the works of artists dealing with multi-celled organisms. Noteworthy is both the relationship of these organisms to us, as well as their roles as independent actors. The exhibition focuses on the works of three remarkable, internationally recognized artists whose work deals with multicellular organisms: Suzanne Anker (US), Brandon Ballengée (US) and Maja Smrekar (SI).
Suzanne Anker
The American artist and theoretician Suzanne Anker has been one of the key figures working at the border between art and biology for several decades. Her work combines inquiry into science and the newest technologies with a keen aesthetic sense.
At Art Laboratory Berlin Anker will show several series of works: The installation Astroculture (Shelf Life) was first shown in 2009. It consists of three plant chambers with installed LED panels. Surprisingly, although the grown plants appeared to be fuschia-colored, they in fact were green. The work manifests the possibility of growing herbs in any light deprived apartment.

Remote Sensing is a series of work produced through rapid prototyping technology. The three dimensional working software program converts the image into an object. The resultant sculpture shares resonance with pictorial maps and landscapes employed by remote sensing.

In the series Vanitas (in a Petri dish) Suzanne Anker reflects the concept of Vanitas by employing a Petri dish as the site of laboratory life in which the Petri dish changes from an object of science to an object saturated as art.
More information: http://www.suzanneanker.com/

Brandon Ballengée
The American artist Brandon Ballengée pursues a sustainable form of artistic research in his metier as a visual artist in the field of bioart and as a biologist in the field of herpetology.
Art Laboratory Berlin will show video documentation of his ongoing project Malamp Reliquaries, on which Ballengée has worked in various forms since 2001. The project's aim is to investigate the potentially unnaturally high occurrence of morphological deformities among wild amphibian populations.
The exhibition also presents three other works of Ballengée developed in the course of his artistic and scientific research. The video projection Requiem pour Flocon de Neige Blesses (A Requiem for Injured Snowflakes) shows images of deformed frogs and tadpoles from Ballengée's research and were collected in southern Quebec. Each image is of an animal, which died due to its deformities - in this requiem life's fragility is manifested.

Danse Macabre is a limited edition print produced by Ballengée to raise funds for saving the Dutch Fire Salamander, which is currently under serious threat of extinction. The print is an example of Ballengée's own development of the process of clearing and staining which beyond its aesthetic merits also shows the development of bone and cartilage in amphibians.

The Cry of Silent Forms The video installation The Cry of Silent Forms (7), made up of eight monitors arranged on the floor, offers the viewer a unique microscopic view of life in water. All works were made in laboratory or research situations created to replicate natural stresses on amphibians (predators, parasites etc.)
More information: http://brandonballengee.com
Maja Smrekar
Maja Smrekar is an emerging young artist from Ljubljana, Slovenia, connecting the intersections of humanities and natural sciences with her main interest in the concept of life.
In 2012, working together with researchers from the Department for Freshwater and Land Ecosystems at the National Institute of Biology in Ljubljana/Slovenia, Smrekar built the installation Crustacea deleatur (an Aksioma Production). This project explores the problem of invasive species, for instance the interaction of European (indigenous) and non-European (tropical, invasive) crayfish. An architectural housing contained a two part aquarium, one part containing the local Slovene crayfish, the other - the Australian red claw crayfish (Cherax quadricarinatus) which recently has settled in the thermal Lake Topla in Slovenia and multiplied in great numbers. The two parts were connected by a ladder allowing the crustaceans the possibility of crossing over and confronting each other.

For the exhibition at Art Laboratory Berlin Smrekar has continued to develop this project and will present the installation Crustacea deleatur in a different form as BioBase: risky ZOOgraphies focussing on the marble crayfish (Procambarus fallax forma virginalis), and its form of asexual reproduction in which growth and development of embryos occur without fertilization, called parthenogenesis. Since the spring of 2013, in this context, there has been an intensive exchange between Smrekar and Prof. Dr. Scholtz from the Institute of Biology (Humboldt-Universität zu Berlin), one of the leading specialists in the marble crayfish worldwide.
More information:
http://www.biobase.si/
http://majasmrekar.org/crustacea-deleatur
https://crustaceadeleatur.wordpress.com
Curated by Regine Rapp Christian de Lutz
Cooperation partners: degewo, fotoscout, Genossenschaft PA58, Aksioma - Institute for Contemporary Art, Ljubljana, Vergleichende Zoologie

Supported by:



This exhibition is made possible in part by a generous gift from Michael Schröder.
Media partner:


Special Thanks to Prof. Sabine Flach
[macro]biologies I: the biosphere
Katya Gardea Browne
The Center for PostNatural History
Mathias Kessler
Alexandra Regan Toland



(l) Katya Gardea Browne, Torre, Panoramico Solotepec/ Paisaje, Maiz y Periferia, Mexico, 2014, photograph
(r) Alexandra Regan Toland, Wishgarden Series, Flooded Harvest, Watershed map made with floodwater mud
on Cobblers' Bridge, Ljubljana, public performance for MOTA Museum of Transitory Art, 2010
Opening: Friday, 7 March, 2014, 8PM
Exhibition runs: 8 March – 4 May, 2014 (closed 18 – 20 April)
Opening hours: Fri-Sun, 2-6PM (and by appointment)
Artist Talk with Katya Gardea Browne: 30 March, 2014 at 3PM
Instead of a unified conception of existence, such as "world" or "nature", today, in the post-anthropocentric era, we find ourselves confronted rather with a multiplicity of structures and a blurring of boundaries. This show is part of a series of exhibitions - [macro]biologies and [micro]biologies - dedicated to artistic reflection on current drastic changes to how we connect, relate and interrelate to the worlds around us.
For [macro]biologies I: the biosphere we have chosen four important international artists dealing with the structures and systems of our world. The exhibition focuses on the ecosystem and the biosphere with billions of life forms that interrelate with other systems (i.a. geologie and climate).

Location (1): Project space ALB, Prinzenallee 34:
The recent works of Mexico City based artist, photographer and filmmaker Katya Gardea Browne have stressed the cultural and environmental tensions between urban and rural in and around the megacity Mexico D.F. For the exhibition she has produced three video works about different aspects of threatened ecosystems. Xochimilco (2014, 7:45 min., projection in the back room) is a meditative journey through the waterways of the district of the same name in the Mexico capital. The video Panoramas can be seen as a homage to the Mexican landscape, both urban and rural.The video Maîs (2014, 16:14 min., front room) deals with the cultivation and use of maize in Mexico. Gardea Browne made the video recordings in various locations, including Quetzalan (Puebla), Solotepec (Estado de Mexico) and Huamantla (Tlaxcala).
In the display case (in the front room), the artist has arranged various objects, playing on themes from the video works, including books and postcards of Xochimilco, as well as traditional varieties of Mexican maize and artifacts associated with the fertility of the soil.
More about Katya Gardea Browne's artist talk (30 March, 2014)



(l) Center for PostNatural History, Postnatural Organisms of the European Union, Waag Society, Amsterdam 2012
(r) Mathias Kessler, Jarrells Cemetary, N37° 53.96' W81° 34.71'. Eunice Mountain, West Virginia, Austrian Culture Insitute, NYC, 2013

The Center for PostNatural History, based in Pittsburgh in the U.S., is an art and research project (Director: Richard Pell, Learning Science Advisor: Lauren Allen, Designer: Mason Juday) dealing with the history of mankind's manipulation of life forms, from early agriculture to genetic modification.Art Laboratory Berlin will present the work PostNatural Organisms of the European Union, a form of museum representing biofacts of living, preserved and documented organisms.

Location (2): Theatre hall, Prinzenallee 58 (2nd backyard):
New York based artist Mathias Kessler's deals, among other things, with the phenomenon of changing landscapes caused by human intervention. For this exhibition, he presents contradictory phenomena and images in both exterior and interior spaces: in urban space (beginning on Prinzenallee, then in the courtyard of Prinzenallee 58) he has applied computer processing to photographs taken in the Florida Everglades. In the interior space (Theatre hall, PA 58), however, Kessler deals with radical views of nature - in this case the destruction of whole landscapes by industry. His aerial photography and documentation of mountain top removal coal mining in the Appalachian Mountains focuses attention on the human ability to shape the very Earth around us, but also on the disastrous consequences of modern hubris.
The Berlin based artist and ecologist Alexandra Regan Toland works on multiple levels to create social awareness about urban ecological systems. As a soil studies scientist she examines the resilience of urban flora; in her artistic work she involves combining social awareness of urban nature with community activism. For the exhibition she will use cartographic documents, urban dust, and a collection of shoe profiles to examine the pressures of soil sealing (i.e. the widespread pavement of porous surfaces) on human and non-human biological communities in Berlin.
More information and images
Regine Rapp & Christian de Lutz (Curators)


Cooperation partners: degewo, fotoscout, Genossenschaft PA58


Supported by:



This exhibition is made possible in part by a generous gift from Michael Schröder.


Media partner: