Viewing and Artist Talk
Nasim Manouchehrabadi: The Power of Form, the Form of Power
25 October, 2013, 7-11 PM
26-27 October, 2013 2-6 PM
Artist Talk with Nasim Manouchehrabadi on 26 October, 2013 3 PM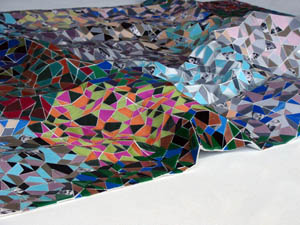 Nasim Manouchehrabadi,The Power of Form, the Form of Power, 2011
Summer 2009, Berlin. Actually, we had no doubt that he would be voted out. But then the results were announced and Ahmadinejad was re-elected president. It was a case of large scale election fraud, and while we were here, torn between anger and disbelief, Tehran experienced the largest mass protests since the fall of the Shah's regime. Suddenly there was a spirit of optimism; for the first time, the population reacted openly against the regime of the mullahs and exposed the rulers' illegitimacy before the whole world. However, the system reacted harshly, and mercilessly put down the uprising, causing many deaths and injuries.

This is how the Tehran-born and Berlin-based artist and designer Nasim Manouchehrabadi described the events following the Iranian presidential elections in 2009. These are the major impetus for the development of her work "The Power of Form, the Form of Power" which will be on view at Art Laboratory Berlin from 25-27 October, 2013.

But the 2009 protests against the Islamic regime and the many conflicts within modern Iranian society are not the only points of departure for the artist. In her work, Nasim Manouchehrabadi has long dealt with the history of Islamic ornamentation, originating in the prohibition of images during the 8th century, and which remains today an essential expression in the Islamic world. The artist has tried to give the perception and impact of geometric ornamentation a new direction.
The form of a carpet is strongly and semantically charged in many ways, bringing together cultural, social and political aspects of modern Iranian life. Manouchehrabadi's carpet is made of different elements, from embroidered fabric to parts made of plexiglas to photographs printed on fabric. The work can be seen on multiple levels: on one hand the aesthetic of form and material, on the other content and ideology.

-Curated by Olga Shmakova