29 June 2012
kate hers Transmigration in Artistic Practice.
Screening and Presentation.

Screening from 7PM; Presentation 8.30PM.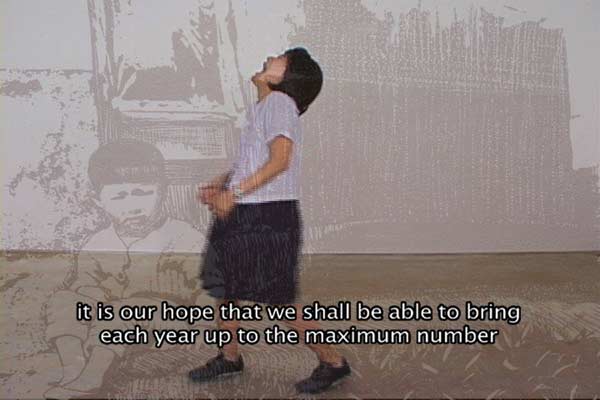 kate hers, video still from Missing, 2006
Transmigration in Artistic Practice is a screening and artist presentation of three projects by the Korean-American artist kate hers, whose works in performance, video and other media deal with issues of language and identity.
Missing [7'55"] is a performative autobiographical documentary video. In her late 20s, the artist, adopted as an infant and raised in the United States, returned to South Korea in an attempt to find her birth parents. The video documents performances, interventions and text from her adoption documents as well as her appearance on a South Korean television program while on the quest for her birth parents. It investigates the phenomena of Korean adoptees returning to the land of their birth and addresses the issues of belonging and transnational identity. It also questions the `forced migration` through adoption and unveils its mental, emotional and cultural impacts.
Sex Education for Finding Face in the 21st Century [9'43"] is a performance video made in Korea. Closely related, but not bound to Missing, this provocative performance is formed of two different footages: the first one an intervention realised in a crowded street in Korea, and eventually interrupted by police officers, questions the status of the young unmarried pregnant women in the country. Here we see the artist incarnating a pregnant high school girl in her uniform laughing hysterically in the crowd. In the se-cond part of the video we witness again her uncanny laughter as well as these words spilling from her mouth "I had an abortion when I was 18". This harsh critique of the Korean society tries to frame the personal in broader politics.
The work Das deutschsprachliche Projekt consists of two parts and deals with learning a new language and living in a foreign country. In the first part, made in 2008 [16'36"], the artist realized a rather extreme durational performance where she stopped speaking her native language for three months and spoke only in German, a language she was not yet fluent in at the time. The second part of the project [13'33"] is an ongoing one year interactive performance which she publishes on her blog (germanproject.estherka.com). It is made up of short videos in which she introduces online spectators to a new word (swear words, slang, idioms) in German on a daily basis. The project, which can also be described an educational series of video podcasts, tries to explore the notion of cultural identity through language.

kate hers has a Masters of Fine Arts (MFA) from the University of California, Irvine and studied at the School of the Art Institute of Chicago (BFA). She currently lives in Berlin.