Gretta Louw - Is the Desert Still the Desert in a Digital World?

6 May, 2012 1 PM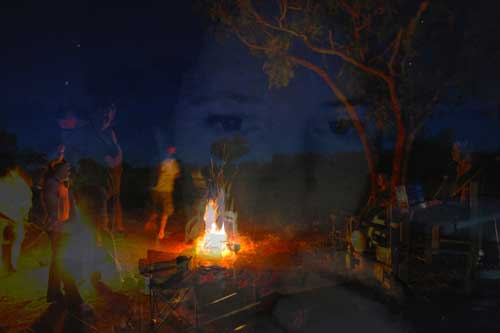 Is the Desert Still the Desert in a Digital World?

Gretta Louw, whose recent performance and exhibition Controlling_Connectivity took place at Art Laboratory Berlin in late 2011 and early 2012, has been working in a remote indigenous community in central Australia, called Lajamanu, since the beginning of March. Alongside her own artistic practice, she has also been working at the Warnayaka Art Centre, teaching photography, video and new media to arts workers from the indigenous Walpiri people, as well as introducing them to online communication platforms. These skills are opening up new venues for creative expression, particularly for younger artists, as well as providing vital tools for cultural preservation, exploration, and continuing development by the Warlpiri people themselves.

The culmination of this first program of new media training will take place on the 6th of May, when a live, online link-up will be established between the Warnayaka Art Centre and the Art Laboratory Berlin. A live audience in Berlin will view a simultaneous performance streamed out of Lajamanu, captured by a number of webcams and presented in Art Laboratory as two large-format projections. It will also be possible for people wishing to view or even take part in the event to log in remotely, anywhere in the world, and watch the performances live online.

The event will incorporate an eclectic and innovative mix of traditional ceremonial dance by Warlpiri elders, the telling of traditional dreaming stories, Warlpiri paintings and other artworks, and live VJing of photographic, video, and audio documentation by Louw, set against the backdrop of a community gathering and barbecue at the art centre.
This event also provides a unique opportunity for inter-cultural exchange across geographic borders, connecting people in Berlin with the Walpiri arts community in Lajamanu, who having been participating in the art world for over xx years. It will also offer a rare glimpse into an extremely remote and still fairly traditional Australian indigenous community for the audience in Berlin, and an equally rare opportunity for the performers and spectators in Lajamanu to interact with artists and a broader public in Berlin.

The networked performance Is the Desert Still the Desert in a Digital World? is significant within the context of colonialisation and the forced modernisation of many indigenous peoples around the world, raising questions about the future of indigenous Australians, how their culture and communities will continue to change and develop, perhaps even at an accelerated rate, in the age of the internet - and all the value judgments that go along with that. It is also a continuation of Louw's previous work at Art Laboratory Berlin, looking at the ways in which the pervasive spread of online social networks, networked communication technology and the internet more generally is affecting culture, art and the human psyche.
In cooperation with


The Warnayaka Art Centre
Month of Performance Art - Berlin: