Evolution Haute Couture
Talk und Film Screening mit Dmitry Bulatov
01 Juli 2010, 19h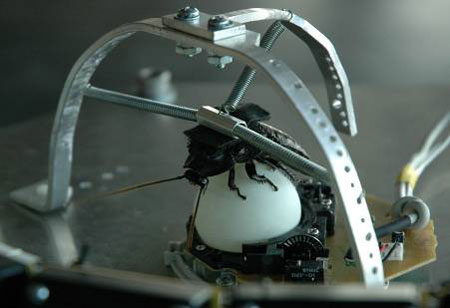 Garnet Hertz (USA) "Cockroach-Controlled Mobile Robot", 2006
Art Laboratory Berlin freut sich, aktuelle künstlerische Arbeiten zu zeigen, die sich der jüngsten Technologie des 21. Jahrhunderts bedienen - künstliches Leben, Roboter-, Bio- und Gentechnik. Das Film Screening wurde vom Kurator und Künstler Dmitry Bulatov in Zusammenarbeit mit dem National Centre for Contemporary Arts (Kaliningrad, Russland) vorbereitet.
Die Filme dokumentieren künstlerische Arbeiten, die sich mit Lebewesen auseinander setzen; die Bestandteile lebender Organismen werden mit technologisch reproduzierten Artefakten kombiniert, um eine Methode zu entwickeln. Kunst, die unter diesen Umständen der Post-Biologie kreiert wird - also unter den Umständen künstlich generierten Lebens -, kann nicht vermeiden, dass eben diese Künstlichkeit selbst zum eigentlichen Thema wird. Wir sehen uns also wieder mit der Frage der Beziehung zwischen Kunst und Leben konfrontiert - jedoch in einem völlig neuen Kontext: Es geht um biologische und nicht biologische Schöpfung, Arbeiten und Lebewesen

Evolution Haute Couture: Art and Science in the Post-Biological Age. Edited by Dmitry Bulatov. Book plus two DVD-ROMs collection (45 video documentaries), KB NCCA, Kalinin-grad, 2009. ISBN: 978-5-94620-054-7.
Diese Publikation wurde vom Kultusministerium der Russischen Föderation, Der Ford Foundation und der Dynasty Foundation (Moskau) gefördert.
www.videodoc.ncca-kaliningrad.ru/eng/

Screening Programm - 1. Juli 2010:

Bill Vorn, Emma Howes, Jonathan Villeneuve (Kanada): Grace State Machines, 7'40"
The Tissue Culture & Art Project (TC & A), Oron Catts and Ionat Zurr (Australien): NoArk, 7'51"
Arthur Elsenaar and Remko Scha (Holland): Morphology / Face-Shift, 10'45"
Ken Rinaldo (USA): The Autotelematic Spider Bots, 10'56"
Stelarc (Australien): Extra Ear: Ear On Arm, 5'12"
Joe Davis (USA): Making Fire, 10'25"
Marcel-li Antunez Roca (Spanien): Epizoo, 3'21"
Erwin Driessens and Maria Verstappen (Hollanf): Tickle Salon, 8'16"
Julie Freeman (GB): The Lake, 5'00"
Laura Beloff (Finnland): The Fruit Fly Farm, 8'42
Marta de Menezes (Portugal): DECON, 9'00"
Paula Gaetano Adi (Argentien): Alexitimia - an autonomous robotic agent, 7'08"
Paul Granjon (Frankreich): Sexed Robots, 4'18"
SymbioticA Group (Australien) and The Potter Lab (USA): MEART - The Semi Living Artist, 7'28"
Floris Kaayk (Holland): Metalosis Maligna, 7'26"
Das Film Screening wird erweitert durch eine kurze Erläuterung von Dmitry Bulatov und einer anschließenden Paneldiskussion mit Dmitry Bulato, Elena Ryabkova (Museum der Weltmeere, Kaliningrad, Russland) und Christian de Lutz (Art Laboratory Berlin).

Dmitry Bulatov (1968, Kaliningrad, Russland)
Künstler, Kurator, Kunsttheoretiker. Seine Forschungsaktivitäten zielen auf verschiedene Aspekte der interdisziplinären Scie-Art Medienkunst (robotechnics, genetic engineering, Nanotechnologie, usw.). Bulatov ist Autor zahlreicher Artikel über Kunst und Technologie. Er hat darüber hinaus Bü-cher und Anthologien heraus gegeben, wie z.B. Ex-poetry (Malbork, 1996), Point of View (Olsztyn, 1998), Homo Sonorus (Kaliningrad, 2001), BioMediale (Kaliningrad, 2004), Evolution Haute Couture (Kaliningrad, 2009).
Seine künstlerischen Arbeiten wurden in verschiedenen nationalen und internationalen Ausstellun-gen gezeigt, z.B. Davaj! Russian Art Now (Berlin-Wien, 2002), Brain Academy Apartment (50. Venedig Bienniale, 2003), 3durch3 (Kassel, 2004), Victory over the Sun (Moskau, 2007), Technology Expanding the Horizon (Columbus, 2007), Senses Alert (Berlin, 2008), Corpus Extremus (New York, 2009).
Bulatov hat an zahlreichen Fesitvals teil genommen, einschl. Moscow Film Festival (Moskau, 2001, 2007, 2008), Radiotopia (ORF, Ars Electronica, 2002), Off-Beats (Berlin, 2003), SKIF-8 (St. Peters-burg, 2004), Up to date (Santiago, 2006), ISEA2008 (Singapur, 2008), Science Art Festival (Moskau, 2009). Bulatov hat auch an verschiedenen internationalen Konferenz zur zeitgenössischen Kunst teilgenommen und hat zahlreiche Vorträge gehalten, z.B. in Russland (Staatl. Eremitage, Staatl. Tretyakov Galerie, dem National Centre for Contemporary Arts), in den USA, Kanada, Hol-land, Deutschland, Mexiko, Singapur und Hong Kong. Er hat darüber hinaus unzählige Stipendien und Preise erhalten, darunter den Special Recognition Award in the State Government category for Art and Culture (1998).
2009 wurde er ausgezeichnet mit dem National Innovation Award for Contemporary Visual Arts (Russland). Seit 1998 ist Bulatov Chefkurator in der Kaliningrader Abteilung des National Centre for Contemporary Art in Russland.
Dieses Projekt wird präsentiert in Kooperation mit dem National Centre for Contemporary Arts (Kaliningrader Abteilung, Russland)