We are glad to announce our new publication:
[macro]biologies & [micro]biologies. Art and the Biological Sublime in the 21st Century.
Ed. by Regine Rapp & Christian de Lutz, Berlin 2015
More information here...


Current exhibition:

PROSTHESES. Transhuman Life Forms
Susanna Hertrich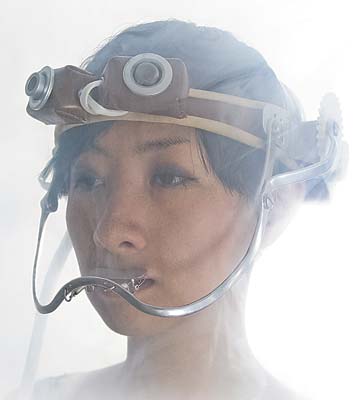 Jacobson's Fabulous Olfactometer, Digital photograph, 2014

Opening: 25 September, 2015 8PM
Childrens' Workshop: 4 October, 2-4 PM (see below for details)
Panel discussion with Susanna Hertrich & guests: 6 November, 2015
Exhibition runs: 26 September – 29 November, 2015

The exhibition explores the phenomenon of the prosthesis as bodily extension in the 21st century. Exploring new technologies and recent developments in neuroscience and biology, Susanna Hertrich proposes new transhuman sensory extensions of what may eventually become 'human 2.0'. The exhibited works are part of her long-term artistic research project Bodies & Technology.

In Susanna Hertrich's work a narration is constructed in which the human sensory apparatus is extended through computer controlled prostheses. The results can be understood as crossing the boundaries between artistic hypothesis and technological experimentation. The artworks reflect our current living environments, as well as critically question the social, political and physical consequences of the new technologies utilised in their making.

Next to Hertrich's works Art Laboratory Berlin will showcase a film by Rafel Duran Torrent on Neil Harbisson and the Cyborg Foundation.

More information





Media partner:



Our 2015 programme is made possible in part by a generous gift from Michael Schröder

Next Event

Childrens' Workshop!
Sun, 4 October, 2015, 2-4 PM (8–12 Jahre)
Please register at: anmeldungen@kinderkulturmonat.de
PROSTHESES
Art Laboratory Berlin will show children (between 8 and 12) the fascinating objects and images of the artist Susanna Hertrich. What are Protheses? How can we extend our bodies? How do we really want to appear? Today people can seemingly change their bodies almost at will through new technologies. We want to discover together what is really possible and how the maschine-person of the future might live.
No fee for children and adults.(Donations apreciated!)


Last exhibition: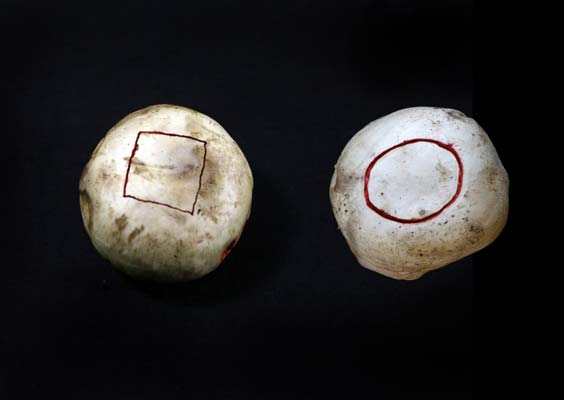 Theresa Schubert // Growing Geometries - Evolving Forms
Exhibition runs: 29 August– 20 September, 2015
Opening: 28 August, 2015 8PM
Artist Talk and Finissage: 20 September, 2015, 3PM

"In her experimental setups, Theresa Schubert condenses the most simple organisms to highly complex philosophical questions. In the artistic research project Growing Geometries I - tattooing mushrooms, fungi generate their growth by processing organic material. Together with the treatment of the mushroom with tattoo needles, their natural growth creates a closer proximity to that of mankind than to that of plants. A natural phenomenon is translated into a moment of critical analysis of processes of growth with the simplest of means. Theresa Schubert's tattooed mushroom are fruits of a deeper lying mesh whose growth can take any shape or form based on devitalized organic material causing revitalization." (Kerstin Godschalk, curator HB55 Kunstfabrik Berlin)

The exhibited works have been developed as part of her PhD research at the Bauhaus University Weimar. In the words of Theresa Schubert: "The works want to challenge common understandings of creativity and emphasize a posthuman view on the world and its creatures. Common ground is the intervention on membranes. A membrane appears in both the exterior and interior of living beings; in the case of a cell membrane it is part of the smallest building block of life, but it also separates two different states. Further, it is an investigation into the aesthetics and mechanisms of natural growths processes."

The artist Theresa Schubert conducts research at the intersection of art, biology, and technology. She has studied Media Arts & Design at the Bauhaus University Weimar. Her artistic practice combines various media such as audiovisual installations, photography or work on paper which deals with the phenomena of nature not only as a source of inspiration, but as a material and critical process. By means of transdisciplinary methods, such as the re-enactment of scientific experiments, biohacking, theoretical analysis and collaborative practices, her work deals with the themes of self-organization, computational geometry and morphology. The starting point for her experiments are simple organisms that arranged in setups have the opportunity to grow and develop - always under the control of the artist - sometimes in interaction with people and visitors.

Theresa Schubert's work has been exhibited internationally. Venues include; Ars Electronica, Linz, KW Institute for Contemporary Art Berlin, ARGE Kultur Salzburg, Newcastle Region Art Gallery, Electro Fringe Festival Australia, Istanbul Biennial, European Media Art Festival and KIBLA Maribor. Recently, the journals Antennae, Wired and Art in Berlin have reported on her work.

Supported by:




Media partner:






[macro]biologies & [micro]biologies
Art and the Life Sciences in the 21st Century.
January 2014 - March 2015



from left to right : Mathias Kessler, Center for PostNatural History, Anna Dumitriu, Brandon Ballengee, Maja Smrekar

Exhibitions:
Moving from the vast to the minute, [macro]biologies & [micro]biologies, will be a series of 3 exhibitions, performances, and talks at Art Laboratory Berlin. The series moves from biosphere and landscape - systems, structures, creation and devastation (in exhibition 1) to the level of non-human, multi-cellular 'being' (in exhibition 2) and finally explores micro-organisms (in exhibition 3), as well as the minute particles or objects that still forms life or a basis for living. Additionally a programme of talks, performances and other events with artists, scientists and scholars will accompany the exhibition series.
(The [macro]biologies & [micro]biologies programme in overview)



Online Publication

We are proud to share with you our online-publication of the international interdisciplinary 2-day SYNAESTHESIA-Conference, held by Art Laboratory Berlin in the summer 2013:
Synaesthesia. Discussing a Phenomenon in the Arts, Humanities and (Neuro-)Science