The Other Selves. On the Phenomenon of the Microbiome

François-Joseph Lapointe, Saša Spačal with Mirjan Švagelj and Anil Podgornik, Tarsh Bates, Joana Ricou
Performance - 1000 Handshakes: 3 February, 7-10PM during the opening of transmediale, House of World Cultures
Opening of the exhibition: 26 February, 2016, 8PM
Artists' Talk: 28 February, 2016, 3PM
Science Hack Day Stammtisch 23 March, 2016 19 Uhr (More information)
Scientist and artist talk with PD Dr. Annette Moter and Tarsh Bates: 23 April, 2016, 6PM
Finissage with talk by Felix Navarrete: 30 April, 2016, 3-6PM (more information)
Exhibition runs: 27 February – 30 April, 2016, Fri-Sun 2-6PM and by appointment. (29 April open until 9PM)





left: François-Joseph Lapointe, Microbiome selfie, 2014, center & right: Saša Spačal, Mirjan Švagelj, Anil Podgornik Mycophone Unison, Responsive installation: electronics, sound, and biological material, 2013; Petri dish, detail of installation 2013

The exhibition, the first of our new exhibition series Nonhuman Subjectivities, presents various artistic reflections on the complex microbial environment found on and within the human body. Scientists say that bacterial cells are as numerous as human cells in our body. The phenomenon of the microbiome also brings forth many complex questions about human identity and our relation to our multiple selves.

François-Joseph Lapointe connects his biological research with performance art. His latest works of art deal with the microbiome in our daily lives and physical connections to others. Lapointe sequences his microbiome to produce metagenomic self-portraits, Microbiome Selfies, which illustrate the metamorphosis of his bacterial self. The show will present works from his performance 1000 Handshakes, performed at the opening night of the 2016 transmediale. The final images visualise the microbial change from interacting with someone else's microbiome – by shaking hands, a basic and ancient act of networking.

Saša Spačal together with Mirjan Švagelj and Anil Podgornik are interested in the contrast between the oneness of the human body as biological entity and the multiplicity of the human microbiome. In their installation Mycophone_unison the artist-scientist-designer collective has developed a sound map of intra-action between their microbiomes and the recipient. By leaving a fingerprint the viewer sends a signal to the map that processes it through the central celestial plate to the microbiomes. The polymodal sonification stresses the multiplicities of the makers.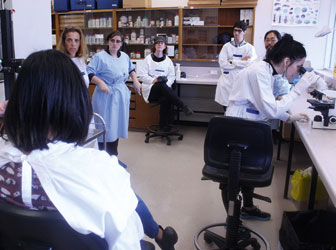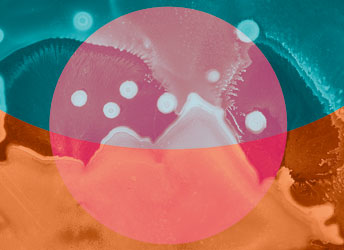 Left: Tarsh Bates working in the science lab for artistic production, School of Pathology and Laboratory Medicine, The University of Western Australia, 2015
Right: Joana Ricou, Other landscape no. 1, microbiome of the artist and environment, C-print, 89 × 140 cm, 2014

Tarsh Bates artistically explores what it means to be human when we recognise our bodies as composed of over one trillion cells, of which only around half are human. Her new work Surface dynamics of adhesion is a flocked wallpaper sampler. Encased in acrylic boxes, living Candida, with blood from Bates herself, form patterns from wallpaper popular in the parlours of Victorian Britain. The work offers aesthetic experiences from the contact zones between the two different organisms, and highlights the unconscious relation we have with Candida.

Joana Ricou's works blur the fundamental boundary between organism and environment, taking the shape of photographs of microbial paintings or performance. Ricou collected samples of her own microbiome and that of her environment and cultured these in the lab to visualise them. Out of this two portraits emerged: Other-self Portrait, a composite of cultures derived from her body, and Non-self Portrait, a composite of environmental cultures.

Regine Rapp & Christian de Lutz (curators)

(More information)

More on the Nonhuman Subjectivities series

With the generous support of:


Cooperation partners:


Media partner:




Made possible in part by a generous gift from Michael Schröder.

Next Exhibition:

Nonhuman Subjectivities
On Animals. Cognition, Senses, Play

Opening: 27 May, 2016, 8PM
Artists talk: 29 May, 2016, 3PM
Exhibition runs: 28 May– 17 July, 2016, Fri-Sun 2-6PM and by appointment. (24 June open until 9PM)




Left: Maja Smrekar, I Hunt Nature, Culture Hunts Me, performance and video; right Rachel Mayeri, Apes as Family, Film

The exhibition On Animals. Cognition, Senses, Play investigates two groups of animals that are closest to us. Primates, our nearest 'relatives', have a complex cognitive proximity to humans, but also differ radically in certain areas. While dogs, with whom we have made a symbiotic contract., have evolved alongside us over the last 30,000 years. The works in this exhibition share Donna Haraway's concept of "cooperative actions": overcoming conventional dichotomies of nature/culture, human/animal or subject/object is all about joint action. The artists, Maja Smrekar and Rachel Mayeri, make use of certain narrative strategies and the phenomenon of immersion, to approach the perspective of a nonhuman counterpart. The works of both artists place the instinct and the senses of the nonhuman at the centre of artistic research, while aiming to translate the nonhuman cognitive ability by means of the performance, film and art/science collaboration.

(More information to follow shortly)



Information n the Series [macro]biologies & [micro]biologies from 2014-15 here...


Publications!

We are glad to announce our new publication:
[macro]biologies & [micro]biologies. Art and the Biological Sublime in the 21st Century.
Ed. by Regine Rapp & Christian de Lutz, Berlin 2015
More information here...

Online publication:
We are proud to share with you our online-publication of the international interdisciplinary 2-day SYNAESTHESIA-Conference, held by Art Laboratory Berlin in the summer 2013:
Synaesthesia. Discussing a Phenomenon in the Arts, Humanities and (Neuro-)Science