Summer Programme

Book Release Party 6 July, 2018 7PM: Half Life. Machines and Organisms,
artistic positions in times of extinction and climate change. Käthe Wenzel/Manfred Blohm (eds.) Fabrico Verlag Hannover, 2018.
Workshop on Microplastics 7/8 July, 2018 (More information shortly!)
Biosignals (in cooperation with Pixelache) 24/25 August, 2018

Most recent exhibition:

Viscous Bodies
Sarah Hermanutz
Alanna Lynch
Opening: Friday, 23 March, 2018 / 8pm
24 March - 13 May, 2018
Fri - Sun, 2-6 pm and by appointment (closed Easter Weekend 30 March-1 April)
Artist Talk with both artists: 25 March 2018 / 3pm



Documentation photographs, from left Alanna Lynch, Concealed and Contained; Potentials; Sarah Hermanutz, Salamander Mourning Veil, Inside Bodies

The project follows an open framework in showing the ongoing artistic research of two emerging artists in the field of art & science. Taking all things fluid as a starting point, the work of Sarah Hermanutz and Alanna Lynch covers themes such as amphibians, bodily borders, boundaries, marginalisation, materialism, seepage, sensory and wetlands through performance, installations, multimedia and living artworks. In addition to object and action, this project also invites the public to become engaged with the matter in manifold ways.
Alanna Lynch works with living organisms, biological materials and performance, examining the politics of affect and questions of agency. She explores the aesthetics of disgust and fear, with a focus on embodied knowledge and non-conscious forces. In her project Potentials Lynch cultivated colonies of fruit flies, Drosophila melanogaster, through their whole lifecycle, making use of microscopic photography and performative display, confronting the visitor with containers of flies in a research-like setting. This evoked reactions ranging from curiosity to disgust. Her performances often explore bodies and identity as something complex and indefinable; both made up of ever more dividable parts of matter. For the performance Concealed and Contained she collected her own hair over many years and crocheted it into an ever-growing container which now covers her head and shoulders. In performance she stands naked, except for the self-made form of concealment which she then works upon: crocheting a continual work-in-progress.
Sarah Hermanutz researches the intersections of performance, technology, and ecology. Her sculptures, installations and performances are preoccupied with wetlands, amphibious creatures, gender and social cognition. Live Decomposition, an ongoing collaboration with sound artist Nenad Popov, was performed last year in Lisbon and Berlin. Video documents Hermanutz's hands as they work through an aquarium filled with mud, sand, living and dead wetland organisms, and other collected material. The artist has a keen interest in amphibians - both as organism and as metaphor. In Inside Bodies an axolotl in a jar becomes a point for human/nonhuman contact. Her work Salamander Mourning Veil, which includes drawings, photographs and performance, is an artist statement on both the mass extinction of amphibians and the degradation of wetlands, a melancholy act of caring and empathy in the spirit of Haraway's 'staying with the trouble'.
The exhibition project examines the aesthetics of viscosity. The two artists will also collaborate on an installation, which will form an interconnecting system of liquids, living materials, organisms and technology and encompass the common themes of their work.
(More information)

-Regine Rapp & Christian de Lutz




Last events:

NONHUMAN AGENTS - in retrospect
Documentation | Publication | Party

23 February, 2018 from 7-11PM

Art Laboratory Berlin cordially invites you to revisit our 2017 programme Nonhuman Agents in Art, Culture and Theory. We will present photo, video and text documentation of our 2017 series of workshops, talks and exhibition, as well as the three-day conference in November 2017.


Interdisciplinary Conference
Nonhuman Agents in Art, Culture and Theory
24-26 November, 2017

Prinzenallee 58, 13359 Berlin-Wedding (Across the street from the Art Laboratory Berlin exhibition space)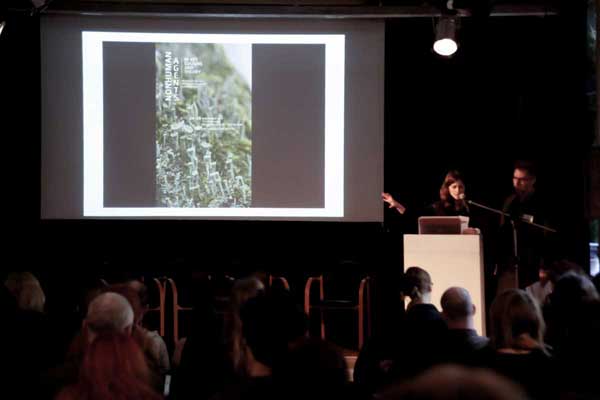 Photographs: Tim Deussen

As a theoretical addition to our ongoing series Nonhuman Agents (June - December 2017) Art Laboratory Berlin - along with our partners, The Institute for Arts and Media, University of Potsdam - has brought together international artists, scholars, and scientists from different disciplines to discuss artistic, philosophical, ethical and scientific approaches to nonhuman agency. Previous positions from our Nonhuman Subjectivities series (2016-17) were also be included.

The conference started with a reflection on post-anthropocentrism by redefining intelligence (human, animal and plant intelligence), agency and sentience. An in-depth consideration included the role of fungi: mycelium, the Internet of trees and yeasts. Microbial agency was explored via the phenomenon of quorum sensing and biofilms, proposing a micro-subjectivity. There were contributions on the microbiome and holobiome, taking into consideration the human as nonhuman. We sought to open up a discussion to endosymbiosis and sympoiesis, reflecting symbiotic relationships, horizontal gene transfer and the role of Lynn Margulis in 21st century Biology and Science and Technology Studies. Finally, the conference discussed nonhuman perspectives under threat and proposed an ethology for the techno-scientific era.
(More information - First video documentation online!)

Previous exhibition:

Nonhuman Networks
Heather Barnett | Saša Spačal, Mirjan Švagelj & Anil Podgornik

Opening: 29 September, 2017 8PM
Artist Talk with Heather Barnett and Saša Spačal: 30 September 2017 3PM
Interdisciplinary Conference. Nonhuman Agents in Art, Culture and Theory: 24-26 November, 2017
Exhibition runs: 30 September - 26 November, 2017
Fri -Sun 2-6PM and by appointment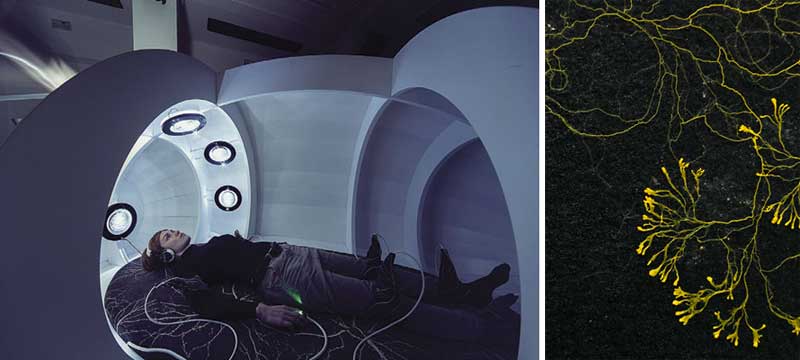 Left: Saša Spačal, Mirjan Švagelj and Anil Podgornik, Myconnect, Installation, 2014, Damjan Švarc / Kapelica gallery photo archive;
right Heather Barnett, The Physarum Experiments Study No. 022, Film still, 2016

Nonhuman Networks presents an aesthetics of new forms of communication between human and nonhuman actors. How does the world's largest single celled creature function as a computer? Can we tap into the so-called 'Internet of trees'? Performative works act as enablers for the audience to engage in non-linguistic forms of awareness and contact with several deceptively simple life forms.
(More information)



Nonhuman Agents in Arts & Culture

Nonhuman Agents takes into account recent philosophical approaches which question anthropocentrism. These discourses emphasise non-human perspectives through object-oriented ontology (Harman and Meillasoux); discuss nonhuman / human encounters (Haraway); postulate a posthumanism (Braidotti); and examine various posthuman performative strategies such as intra-acting (Barad). A new 'de-centring' lets us draw our attention to a reality that can no longer be described in purely anthropocentric parameters.





Workshops & Lectures
Through workshops and lectures, four international artists, living in Berlin, invite the public to think about the non-human by means of selected artistic, performative and scientific methods. Mushrooms, mosses, lichens and bacterial processes, as well as Berlin wetlands, play a central role.

Alanna Lynch | Gut feelings
18 June, 2017

Margherita Pevere | Anatomy of an inter-connected system
15 July, 2017

Theresa Schubert | The forestal psyche
25 & 26 August, 2017

Sarah Hermanutz | ill-at-ease seep
28 October 2017

Presentation of Nonhuman Agents
14 September, 2017, 7-11 PM
15-17 September, 2017, 1-4PM

2-day-Workshop
Heather Barnett + plan b (Sophia New & Daniel Belasco Rogers) | Swarm | Cell | City
23 & 24 September, 2017 | 1-5PM

Exhibition
Nonhuman Networks
Heather Barnett| Saša Spačal with Mirjan Švagelj & Anil Podgornik
Opening: 29 September, 2017 8PM | Exhibition runs: 30 September - 26 November, 2017
Artists Talk: 30 September, 2017 3PM

Interdisciplinary Conference
Nonhuman Agents in Art, Culture and Theory
24-26 November, 2017

More on Nonhuman Agents

With the generous support of:



&nbsp &nbsp &nbsp &nbsp &nbsp &nbsp



Media partner:




Cooperation partner:




Information on the Nonhuman Subjectivities series from 2016-17 here

Information on the [macro]biologies & [micro]biologies series from 2014-15 here...


Publications!

We are glad to announce our new publication:
[macro]biologies & [micro]biologies. Art and the Biological Sublime in the 21st Century.
Ed. by Regine Rapp & Christian de Lutz, Berlin 2015
More information here...

Online publication:
We are proud to share with you our online-publication of the international interdisciplinary 2-day SYNAESTHESIA-Conference, held by Art Laboratory Berlin in the summer 2013:
Synaesthesia. Discussing a Phenomenon in the Arts, Humanities and (Neuro-)Science