Current Exhibition:

Nonhuman Subjectivities: Under-Mine.
Alinta Krauth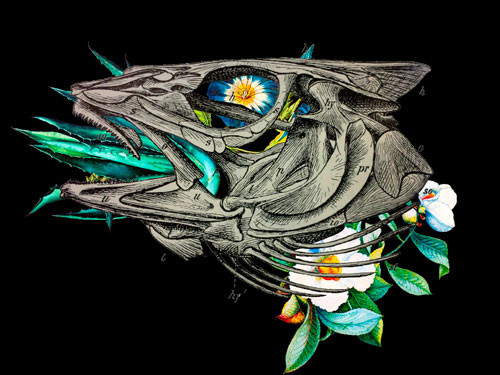 Alinta Krauth, Under-Mine, interactive video installation, Still from animation, 2017
Opening: Saturday 25 February, 2017 at 8PM
Artist talk on 26 February, 2017 at 3PM
Exhibition runs 26 February- 2 April, 2017, Fri -Sun 2-6PM and by appointment


The exhibition project investigates the problematics and possibilities of communicating nonhuman perception through the interface of artistic practice and new technologies. By means of interactive and non-interactive video that use generative and time-based techniques the Australian artist Alinta Krauth considers potential narratives of animals under threat from climate change.

Alinta Krauth's new project Under-Mine (2017), especially developed for Art Laboratory Berlin, uses video, generative art, data visualisation and an intensive study into the science of animal perception and cognition to propose narrative paths towards a meeting point of the human and nonhuman. Taking into account that each species' way of sensing the world is unique, and often beyond the ken of human experience, Krauth makes use of a diverse technological toolbox to navigate and translate nonhuman perceptions.

By means of data generated video and sound, hand drawn animation, and digital interactive elements, Krauth creates four 'narratives' - bat, wild horse, woodlouse, and rock lizard - that follow a similar plot line: the attempt to survive a species die-off. The artist introduces abstract visual and aural perception as language, interaction with an immersive environment, and a sense-oriented, rather than linear narrative. In her own words she discerns that "one way to tell a narrative of, or for, a nonhuman animal is to consider the senses that are stronger in other species than in humans, for example echolocation, magnetoreception, hygroreception, chemoreception, and possibly proprioception."

The project makes use of a tradition of interactive and game related electronic art, which connects the human body to storytelling, but proposes using this to explore the possibilities of inter-species empathy. Through interaction the audience wavers between being a character, a creator, and a viewer. While the artist is well aware that narrative is itself a very human construct, and that any attempt to experience animal perception is bound to be inherently anthropocentric, Under-Mine seeks to push at the boundaries between the human and animal, and dislodge us from our usual subject-object relation to the nonhuman. (More information)
-Regine Rapp & Christian de Lutz (curators)


More on the Nonhuman Subjectivities series
Last Event:

Mycelium Network Society
February 24,2017
Art Laboratory Berlin will be taking part in the discussions at the opening event of the Mycelium Network Society (part of transmediale ever elusive).
3-9PM
Location: silent green Kulturquartier
Gerichtstraße 35
13347 Berlin


DIYBio NOW
17 Feb. 7-10PM
18 Feb. 12-8PM
19 Feb. 12-6PM

DIYBio faire Organized by Biotinkering Berlin
The three-day bio-fair brings together the players in the Berlin biohacking scene for a series of hands-on workshops, talks and a special exhibition featuring unique DIY laboratory equipment. The bio-fair focuses on the elusiveness of nature, trying to rebuild the lost connection between humans and the oldest organisms on Earth: bacteria, algae and fungi.

The fairs opens on Friday at 7 PM with a series of presentations by Berlin-based biohackers. The program continues on Saturday 12-8PM and Sunday 12-6PM with workshops and talks on topics ranging from 'bioluminescent bacteria' to 'tempeh fermentation' to 'spectrometry' by Jessica Bernds, Rüdiger Trojok and Alessandro Volpato and an exhibition of artworks by Lusi Ajonjoli & Hong Yu, Mirela Alistar, Graziele Lautenschlaeger, Fara Peluso and Margherita Pevere.

Art Laboratory Berlin's events for January & February 2017 are part of the Vorspiel programme of the transmediale and CTM 2017



SciArt Café with BIOMOD and iGEM Team Berlin
29 January, 2017 3-6PM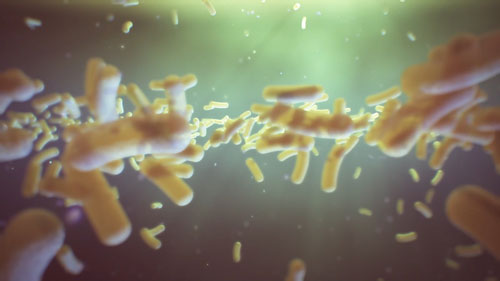 Synthetic Biology is growing up. 15 years ago scientists programmed the first "green blinking" bacteria. Today, advances in high precision gene editing, programmable genetic networks and the combination with machine learning are reshaping industries and societies.

In the SciArt Café scientist and artists will cast some light in this highly complex and disputed topic. We will discuss possibilities, limitations and motivations to use and extend the natural tool-kit as a new technology. Synthetic biology leads the way into a novel techno-biosphere in which all of us have to reconsider our relationship between nature and technology.

Join us for an interdisciplinary afternoon filled with inspirational speakers and open discussions at ArtLaboratory Berlin.

The iGEM Berlin team (http://igem.berlin/) presents their fifth SciArt Café. Under the main theme of "Synthetic Biology - a toolkit for solving humanity's problems" we will hear scientists and artists working with bioscience and afterwards discuss topics of synthetic biology.
1. Nikolaj Koch - Introduction into SynBio, iGEM Berlin 15-17, Using Synthetic Biology to clean our water from microplastics
2. Svenja Nierwetberg - Searching for parasites - Using synthetic biology for diagnostics (iGEM Charité)
3. Prof. Vera Meyer - Fungal Bioart : Combining scientific and artistic approaches in microbiology
4. plus additional talks on biology and the arts

Art Laboratory Berlin's events for January & February 2017 are part of the Vorspiel programme of the transmediale and CTM 2017



Nonhuman Subjectivities
Aural Aquatic Presence

Robertina Šebjanič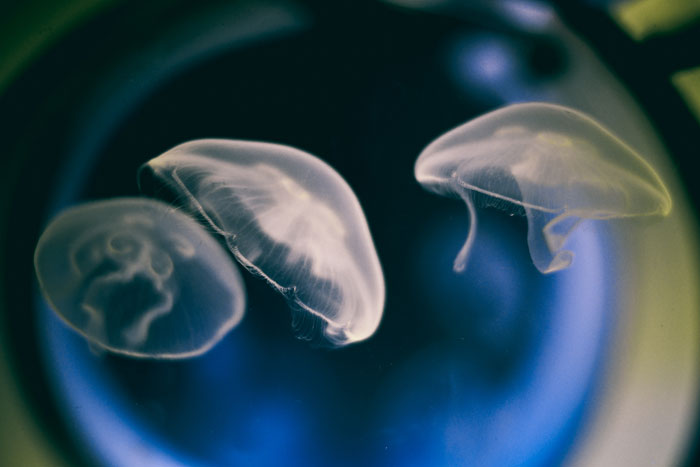 Robertina Šebjanic: Aurelia 1+Hz / proto viva generator, Installation with living system, 2014 Photo: Hana Jošič

Opening: 2 September 2016, 8PM
Closing event: 9 October, 3-6PM
Exhibition runs: 3 September - 9 October, 2016
Fri-Sun, 2-6PM and by appointment; open 30 September, 2016 until 9PM

Seminar: Living Systems | Aquatic Systems
with Robertina Šebjanič, Kat Austen, Regine Rapp and Christian de Lutz: 18 September, 2016
More information


The exhibition investigates agency and sentience in one of the 'simplest' of multicellular creatures: the jellyfish, placing it into relation with a 'complex' human made machine. Also noteworthy here is the importance of sound in marine systems, as well as the effects of human intervention on aural aquatic systems.

In her series of works "Aurelia 1+Hz" the Ljubljana based artist Robertina Šebjanič is interested in both biopolitical and technological attempts at the prolongation of life as well as a new critical reflexion of interspecies cohabitation. Šebjanič, whose work involves intensive cooperation with marine biologists from around the globe, has chosen to work with jellyfish, which have existed on earth for over 500 million years.
(More information)
More on the Nonhuman Subjectivities series

Cooperation partners:





Previous Exhibitions:

NatureCultures

Brandon Ballengée | Katya Gardea Browne | Pinar Yoldas

Curated by Regine Rapp & Christian de Lutz
At the Alfred Ehrhardt Stiftung, Auguststr. 75, 10117 Berlin
Exhibition runs 2 July-4 September, 2016
Closing reception and curators' tour: 4 September, 2016 at 2PM
(More Information)


Nonhuman Subjectivities
On Animals. Cognition, Senses, Play

Rachel Mayeri Maja Smrekar

Opening: 27 May, 2016, 8PM
Artists talk: 29 May, 2016, 3PM
Dialog and closing reception: 17 July, 2016, 3PM
Exhibition runs: 28 May– 17 July, 2016, Fri-Sun 2-6PM and by appointment. (24 June open until 9PM)




Left: Maja Smrekar, I Hunt Nature, Culture Hunts Me, performance and video; right Rachel Mayeri, Apes as Family, Film

The exhibition On Animals. Cognition, Senses, Play investigates two groups of animals that are closest to us. Primates, our nearest 'relatives', have a complex cognitive proximity to humans, but also differ radically in certain areas. While dogs, with whom we have made a symbiotic contract., have evolved alongside us over the last 30,000 years. The works in this exhibition share Donna Haraway's concept of "cooperative actions": overcoming conventional dichotomies of nature/culture, human/animal or subject/object is all about joint action. The artists, Maja Smrekar and Rachel Mayeri, make use of certain narrative strategies and the phenomenon of immersion, to approach the perspective of a nonhuman counterpart. The works of both artists place the instinct and the senses of the nonhuman at the centre of artistic research, while aiming to translate the nonhuman cognitive ability by means of the performance, film and art/science collaboration.

Maja Smrekar's performance I Hunt Nature and Culture Hunts Me, created during a research residency, investigates the phylogenetics of the wolf, the wolf-dog-human relationship and animal ethics. The implied risk and intimacy of Smrekar's performance with hybrid wolfdogs is contrasted by the reading of cultural texts from Joseph Beuys, Oleg Kulik and Smrekar. A documentary film also explores the complex evolutionary story of the canine.
In her work Ecce Canis she explores the metabolic pathway processes that trigger emotional motifs which bind humans and dogs and let them successfully coexist together. The installation contains serotonin from both the artist and her Scottish border collie Byron, which has been transformed by chemical protocols into an odour - the chemical essence of their human-canine relationship.
The films of Rachel Mayeri are the result of years of collaboration with primatologists. In her series Primate Cinema, Mayeri has made films for (and about) chimpanzees and other primates. In Apes as Family we watch a drama based on a tale of both chimpanzee social customs and domestication. While, as humans, we find the plot emotionally compelling, we also become caught up with watching the reactions of a chimpanzee audience watching the same film on a large TV. Indeed the film is both an example of 'Primate Cinema', that is a film made for nonhuman primates, and the complexities of cross-species understanding. Mayeri's film Baboons as Friends juxtaposes footage of baboons with a film noir reenactment by human actors, who translate a tale of lust, jealousy and deceit from the animal to the human.
Regine Rapp & Christian de Lutz (curators)

(More information)

More on the Nonhuman Subjectivities series




Nonhuman Subjectivities
The Other Selves. On the Phenomenon of the Microbiome

François-Joseph Lapointe, Saša Spačal with Mirjan Švagelj and Anil Podgornik, Tarsh Bates, Joana Ricou
Performance - 1000 Handshakes: 3 February, 7-10PM during the opening of transmediale, House of World Cultures
(More information)
Opening of the exhibition: 26 February, 2016, 8PM
Artists' Talk: 28 February, 2016, 3PM
Science Hack Day Stammtisch 23 March, 2016 19 Uhr (More information)
Scientist and artist talk with PD Dr. Annette Moter and Tarsh Bates: 23 April, 2016, 6PM
Finissage with talk by Felix Navarrete: 30 April, 2016, 3-6PM
Exhibition runs: 27 February – 30 April, 2016, Fri-Sun 2-6PM and by appointment.





left: François-Joseph Lapointe, Microbiome selfie, 2014, center & right: Saša Spačal, Mirjan Švagelj, Anil Podgornik Mycophone Unison, Responsive installation: electronics, sound, and biological material, 2013; Petri dish, detail of installation 2013

The exhibition, the first of our new exhibition series Nonhuman Subjectivities, presents various artistic reflections on the complex microbial environment found on and within the human body. Scientists say that bacterial cells are as numerous as human cells in our body. The phenomenon of the microbiome also brings forth many complex questions about human identity and our relation to our multiple selves.

François-Joseph Lapointe connects his biological research with performance art. His latest works of art deal with the microbiome in our daily lives and physical connections to others. Lapointe sequences his microbiome to produce metagenomic self-portraits, Microbiome Selfies, which illustrate the metamorphosis of his bacterial self. The show will present works from his performance 1000 Handshakes, performed at the opening night of the 2016 transmediale. The final images visualise the microbial change from interacting with someone else's microbiome – by shaking hands, a basic and ancient act of networking.

Saša Spačal together with Mirjan Švagelj and Anil Podgornik are interested in the contrast between the oneness of the human body as biological entity and the multiplicity of the human microbiome. In their installation Mycophone_unison the artist-scientist-designer collective has developed a sound map of intra-action between their microbiomes and the recipient. By leaving a fingerprint the viewer sends a signal to the map that processes it through the central celestial plate to the microbiomes. The polymodal sonification stresses the multiplicities of the makers.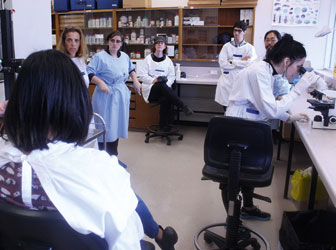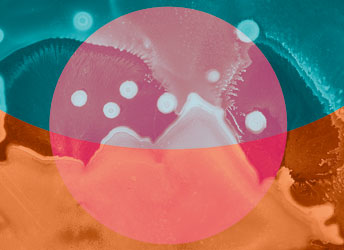 Left: Tarsh Bates working in the science lab for artistic production, School of Pathology and Laboratory Medicine, The University of Western Australia, 2015
Right: Joana Ricou, Other landscape no. 1, microbiome of the artist and environment, C-print, 89 × 140 cm, 2014

Tarsh Bates artistically explores what it means to be human when we recognise our bodies as composed of over one trillion cells, of which only around half are human. Her new work Surface dynamics of adhesion is a flocked wallpaper sampler. Encased in acrylic boxes, living Candida, with blood from Bates herself, form patterns from wallpaper popular in the parlours of Victorian Britain. The work offers aesthetic experiences from the contact zones between the two different organisms, and highlights the unconscious relation we have with Candida.

Joana Ricou's works blur the fundamental boundary between organism and environment, taking the shape of photographs of microbial paintings or performance. Ricou collected samples of her own microbiome and that of her environment and cultured these in the lab to visualise them. Out of this two portraits emerged: Other-self Portrait, a composite of cultures derived from her body, and Non-self Portrait, a composite of environmental cultures.

Regine Rapp & Christian de Lutz (curators)

(More information)

More on the Nonhuman Subjectivities series




Information on the [macro]biologies & [micro]biologies series from 2014-15 here...


Publications!

We are glad to announce our new publication:
[macro]biologies & [micro]biologies. Art and the Biological Sublime in the 21st Century.
Ed. by Regine Rapp & Christian de Lutz, Berlin 2015
More information here...

Online publication:
We are proud to share with you our online-publication of the international interdisciplinary 2-day SYNAESTHESIA-Conference, held by Art Laboratory Berlin in the summer 2013:
Synaesthesia. Discussing a Phenomenon in the Arts, Humanities and (Neuro-)Science