Starting January 2014:
[macro]biologies & [micro]biologies
Art and the Life Sciences in the 21st Century.
Exhibitions, Events and more.


To open our 2014 programme Art Laboratory Berlin will be presenting three days of events on open source biology and micro-organisms in connection with the transmediale festival:
DIY Bio Lounge // 24 - 26 January, 2014
24 January, 2014 from 8PM: Art & Science Dialog with Theresa Schubert and Andy Adamatzky;
25- 26 January DIY Bio Lounge, Bio-hackathon and presentation by Rüdiger Trojok
Bioluminescence, an installation by Sarah Chareza and Jessica

Exhibitions:
Moving from the vast to the minute, [macro]biologies & [micro[biologies, will be a series of 3 exhibitions, performances, and talks at Art Laboratory Berlin over the course of 2014 The series moves from biosphere and landcape - systems, structures, creation and devastation (in exhibition 1) to the level of non-human, multi-cellular 'being' (in exhibition 2) and finally explores micro-organisms (in exhibition 3), as well as the minute particles or objects that still forms life or a basis for living.
[macro]biologies I: the biosphere // 8 March - May 4, 2014
The first exhibition explores the multiple biological structures and systems that make up a single unit on the planet Earth - the biosphere. The biosphere, which has existed for at least 3 billion years, is currently undergoing a situation of extreme change and stress due to mankind's manipulation of resources, the release of carbon based gases and environmental destruction. The four positions in the exhibition explore different ways in which 'nature' has been effected by or reacted to these recent stresses.
Participating artists: Katya Gardea Browne, Mathias Kessler, Center for PostNatural History (Rich Pell), Alexandra Regan Toland.
[macro]biologies II: organisms // 31 May - 20 July, 2014
The second exhibition will highlight the work of artists working with multi-celled organisms, how we relate to them, and how their precariousness relates to our own situation in the 21st century.
Participating artists: Suzanne Anker, Brandon Ballengée, Maja Smrekar.
[micro]biologies: the bacterial sublime // 27 Sept - 30 November, 2014
The third exhibition will be a retrospective of the British artist Anna Dumitriu, whose work blurs the boundaries between art and science with a strong interest in the ethical issues raised by emerging technologies, and a special emphasis on bacteria and micro organisms.

Additionally a programme of talks, performances and other events with artists, scientists and scholars will accompany the exhibition series.


Last exhibitions and events
Viewing and Artist Talk
Nasim Manouchehrabadi: The Power of Form, the Form of Power
25 October, 2013, 7-11 PM
26-27 October, 2013 2-6 PM
Artist Talk with Nasim Manouchehrabadi on 26 October, 2013 3 PM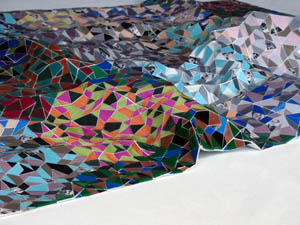 Nasim Manouchehrabadi,The Power of Form, the Form of Power, 2011
Summer 2009, Berlin. Actually, we had no doubt that he would be voted out. But then the results were announced and Ahmadinejad was re-elected president. It was a case of large scale election fraud, and while we were here, torn between anger and disbelief, Tehran experienced the largest mass protests since the fall of the Shah's regime. Suddenly there was a spirit of optimism; for the first time, the population reacted openly against the regime of the mullahs and exposed the rulers' illegitimacy before the whole world. However, the system reacted harshly, and mercilessly put down the uprising, causing many deaths and injuries.


This is how the Tehran-born and Berlin-based artist and designer Nasim Manouchehrabadi described the events following the Iranian presidential elections in 2009. These are the major impetus for the development of her work "The Power of Form, the Form of Power" which will be on view at Art Laboratory Berlin from 25-27 October, 2013.


But the 2009 protests against the Islamic regime and the many conflicts within modern Iranian society are not the only points of departure for the artist. In her work, Nasim Manouchehrabadi has long dealt with the history of Islamic ornamentation, originating in the prohibition of images during the 8th century, and which remains today an essential expression in the Islamic world. The artist has tried to give the perception and impact of geometric ornamentation a new direction.


The form of a carpet is strongly and semantically charged in many ways, bringing together cultural, social and political aspects of modern Iranian life. Manouchehrabadi's carpet is made of different elements, from embroidered fabric to parts made of plexiglas to photographs printed on fabric. The work can be seen on multiple levels: on one hand the aesthetic of form and material, on the other content and ideology.

-Curated by Olga Shmakova
Synaesthesia / 4: Translating, Correcting, Archiving
Eva-Maria Bolz, Ditte Lyngkær Pedersen, Andy Holtin

Opening: 31.05.2013, 8 PM
Exhibition runs 1 June - 21 July, 2013
Open: Fri-Sun, 2-6 PM and by appointment
Synaesthesia / 4: Translating, Correcting, Archiving presents works by Ditte Lyngkær Pedersen (DK), Eva-Maria Bolz (D) and Andy Holtin (USA). The exhibition devotes itself to selected artistic strategies for decoding the phenomenon of synaesthesia. It is significant that all three artists experience different forms of synaesthetic perception.
Since 2003, Ditte Lyngkær Pedersen, herself a synaesthete, has created an extensive video archive of interviews about the multi-sensory perception of synaesthesia that document the experiences of individuals and at the same time make the unbridgeable gap between this topic and the audience clear.



Ditte Lyngkær Pedersen, Why Is Green a Red Word?, video stills, 2003 - 2013
The work of the Berlin artist and grapheme and lexical synaesthete Eva-Maria Bolz is dedicated to an exploration of the relationship between colour, text and perception. In her individual form of synaesthesia she feels an unchanging association of colours to numbers, letters, as well as whole words. Perception becomes a filter through which letters, words – text in itself – are translated into colours and transformed from a set of well-known characters into a message that can be detected by means of a particular synaesthetic sensibility.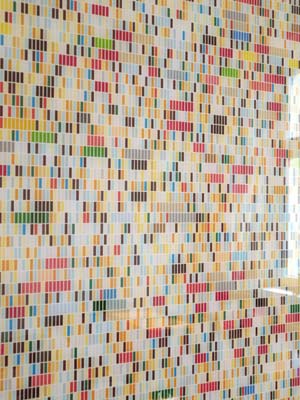 Eva-Maria Bolz, Der Innere Monitor (The Rose and the Nightingale, Oscar Wilde), 2013, detail

Andy Holtin has grapheme synaesthesia, connected with a particular colour-number association. He sees numbers in specific colours, moreover, this is influenced by a partial red-green colour blindness, affecting certain nuances.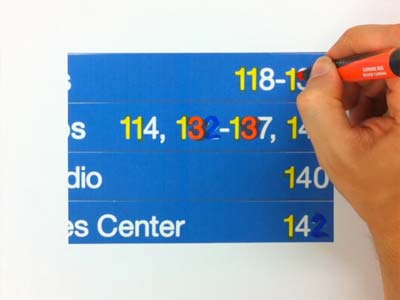 Andy Holtin, Corrections, video still, 2009

Regine Rapp & Christian de Lutz (Kuratoren)
rapp@artlaboratory-berlin.org
cdelutz@artlaboratory-berlin.org
Presse: Olga Shmakova
olga.shmakova@artlaboratory-berlin.org
With the generous support of:

Media partner:




The Synaesthesia series is supported in part by a generous gift from Michael Schröder.


CONFERENCE:
Synaesthesia.
Discussing a Phenomenon in the Arts, Humanities and (Neuro-)Science
5/ 6 July, 2013
Theater Glaskasten, Prinzenallee 33, Berlin-Wedding
As a theoretical addition to our ongoing exhibition series SYNAESTHESIA (October 2012 - July 2013), Art Laboratory Berlin will hold an international interdisciplinary conference to further explore and theoretically question the field of multisensory perception.
More information
Art Laboratory Berlin Awarded Prize for Project Spaces
We are pleased to announce that Art Laboratory Berlin is one of the winners of the first Prize for Art Project Spaces and Initiatives in the Field of Visual Arts awarded by the Berlin Senate Office of Cultural Affairs.
The award honours the commitment and work of those operating project spaces and initiatives. "The award serves" according to the Senate Office of Cultural Affairs, "to support them, to secure the existing diversity and to make the activities of art project spaces and initiatives in Berlin more visible."
The prize ceremony takes place on 27 February, 2013 under the auspices of State Secretary André Schmitz
A complete statement from Art Laboratory Berlin on the award can be found at:
http://www.artlaboratory-berlin.org/assets/pdf/ALB_statement_for_prize_DE_ENG.pdf


art-in-berlin Berliner Projekträume und –initiativen

Kunst Magazin - Berliner Kulturverwaltung zeichnet Projekträume aus von Julia Schmitz

Morgenpost - Eine Klassenfahrt mit Baby und Urkunden Von Gabriela Walde

Zitty - Das erste Mal: Der Berliner Preis für Projekträume wird vergeben

Taz - Attraktiv und den Preis wert Von Marcus Woeller

Neues deutschland - Echte Berliner Spezialität. Selbstorganisierte Kunstinitiativen kämpfen ums Überleben
Von Tom Mustroph

Tagesspiegel - Küsschen, Kaffee, Kohle von Claudia Wahjudi